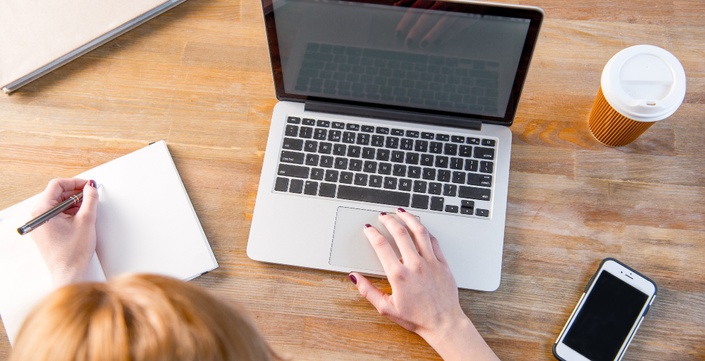 Easy Media Promotion for Indie Authors
5 Steps to Craft a Killer Pitch So the Media Will Put You in Front of Their Audiences
Want the media to talk about your book?
Do you wonder what it takes to get media coverage for your book? Afraid to reach out to the media? Don't quite know where to begin? No worries! In this course, you'll learn step-by-step instructions to craft a compelling pitch that will pique the interest of the media—and convince them to put you in front of their audiences!
All you need is to be able to write an email.
(Seriously, you write emails all the time. How hard can it be?)

"If you dream of getting more readers, Chris Well's video instruction and templates is a 'no-brainer' investment for book marketing success. Chris delivers a fresh perspective on how to leverage publicity and present yourself in an effective and professional manner, with examples and templates that can fast-track any author to be media ready."
Bee Kapitan
Founder and Creative Director
Interactive Bee Media

"I've attended seminars for indie authors on promoting your book, and listened to speakers at conferences on the same subject, but I've never heard anyone with more knowledge on publicity for authors than Chris Well. He's also an excellent instructor!"
Jack Wallace, novelist
The Unrighteous Brothers

"Chris Well has saved me time and energy, teaching me precisely what I need to be sure that I can get my book into the hands of the readers who can benefit from it. Chris's pleasant broadcast voice and warm style make it very easy to avail of the material. The instruction is step by step, no fluff, providing essential practical information and ideas from the field that, as a beginner writer, I could not have known. I am encouraged that my readers will more easily find me and my book."
Bev Martin, personal coach
Inner Active | Change From the Insight Out
What can free publicity do for your book?
Compared to paid advertising and hit-and-miss social media, catching the media spotlight can...
Put you in front of larger audiences

Boost your credibility

Grow your readership

In effect, when you appear in the media, you're leveraging their platform to grow your platform.
Let me show you a shortcut...
I've worked in the media more than 30 years—in newspapers, in magazines, as a broadcaster, as a podcaster, as a webmaster, and more. Over that time, I've covered music, publishing, human interest, and other fields. (There was even that time I was a single man who was editing a bridal magazine. Long story.)
As an author myself, I also know what it's like to be on both sides of the desk. I know firsthand the heartache of a publisher who simply tosses your book out in the world and moves onto the next thing. I can tell you the frustration of spending thousands of dollars out of pocket for a professional publicist and getting zero value out of it. I can share the insecurity of being a self-published author who just wants a fair shake.
But I did get media coverage.
With very little help from either a publisher or a PR agency, I was able to get media interviews and reviews myself. Because I had inside knowledge about what the media wants.
Now, I'm on a mission to help authors struggling to find their way through the world of media coverage. It's a territory with its own customs, it's own rules, even its own language—which can prove difficult for outsiders to understand without an experienced guide to help them get through.

Meet your tour guide.
With massive changes in publishing and the media, there's never been a easier time in history to get in front of audiences and talk about your book. Imagine being interviewed by broadcasters, podcasters, reporters, columnists, bloggers and more...
But without expert guidance, you can easily waste a lot of your time, energy,and money chasing after the wrong opportunities and be left with nothing to show for it. Fact is, there are literally thousands of authors who deserve this kind of coverage—but have no idea how to make it work. And they remain unknown.
Do you want me to show you how to get in front of those audiences?
Here's Your Chance to Work With A Media Insider!

I can teach you how the media works.
You don't need to be rich.
You don't need to be famous.
You don't need a heart-wrenching personal story.
You don't need to hire a PR agency.
You just need to know what to do.
Welcome To...
EASY MEDIA PROMOTION FOR INDIE AUTHORS
5 Steps to Craft a Killer Pitch So the Media Will Put You in Front of Their Audiences
Through this course, I'll walk you STEP-BY-STEP through what it takes to be placed in front of brand-new readers again and again. Based on my 30+ years experience working inside the media, I'll give you the knowledge, tools, and strategies you need to make media pros WANT to share you with their readers, their listeners, their viewers!
What's included? Glad you asked!
Easy Media Promotion For Indie Authors is built around five compact video trainings complete with action steps to get you results fast! And if you want to dive deeper into the process, there are also downloadable worksheets, notebooks, and transcripts to help you get the most out of the training.
The five modules are...
---
🤔 CONSIDER YOUR AUDIENCE
No author is for everybody! In this module, you'll learn how to get real traction from your publicity by going after the right people.
---
📰📺📻 FIND YOUR MEDIA
The next step is to find the media that speaks to that audience. In this lesson, you'll learn practical steps to create a list of go-to media outlets.
---
💻 STUDY YOUR OUTLET
Sending out random pitches to the media is like throwing a rock through a window and hoping for the best. In this lesson, you'll learn exactly what you need to know from your list of media outlets to get better results.
---
📣 CREATE YOUR TOPIC
It's not the job of the media to figure out why you're interesting. That job belongs to YOU. In this lesson, you'll find out how to create the kind of topics that will persuade members of the media to put on front of their audiences.
---
📧 CRAFT YOUR EMAIL
In this lesson, we'll build on everything you learned in the previous lessons and go into step-by-step detail how to write an email to the media that they'll take seriously!
---
Want bonuses? You got it.
Registering for Easy Media Promotion For Indie Authors will not only give you instant access to the core five modules—complete with video tutorials, worksheets, notebooks, and transcripts—you also get these bonuses...
---
🛠️ Bonus Video Demos
In addition to the main video lessons, the course includes bonus screencast videos where I demonstrate how to use free online tools to create dozens of topic ideas in a matter of minutes!
---
🎙️ Bonus Module: How to Be a Great Interview Guest
You pitched a great angle to that media outlet and they want to schedule you for an interview. Now what?!? In this bonus training, discover how to prepare for the interview, how to handle yourself during the interview, and what to do after the interview to use this as a stepping stone for more media opportunities in the future. Includes CHECKLISTS to help you prepare for different types of interviews!
---
💬 Membership in an exclusive private community
When you enroll you'll be offered access to a private Facebook group where I host monthly activities for members, including challenges, critiques, live Q&As, and more!
---
⌚ Lifetime access and free updates
Not only do you have access to these materials 24/7—you also get to keep all the materials for as long as this platform and the universe allows. And any time I update the course, add new material, or invite students to online workshops, you will always have access to the most up-to-date information and strategies!

"Happily, some of the tips in this course were new to me and I learned exactly how to craft successful media promotion suited to my message. Chris's training focuses on a handful of pitching-to-the-media essentials that are digestible, applicable, and proven to lead to success. Invaluable!"
Kay Vreeland, Book Coach

"I like that it's a video/audio course instead of a bunch of reading. And I love that I can access it when I have time. It's been so helpful."
Shannon Taylor Vannatter, inspirational romance author
A Texas Holiday Reunion (Texas Cowboys)

"Chris was constantly giving encouragement...which was very helpful to me as a complete publicity novice. When I saw the result that his instructions helped me to produce, I had an even better understanding of the quality of the course and the instructor. I strongly recommend Chris to everyone who is interested in working with the publicity media."
Kevin W. Jameson, author of the Violin Vibrato Book Series
Frequently Asked Questions
Who is Easy Media Promotion for Indie Authors for?
Easy Promotion for Indie Authors is created for any author in any circumstance. Whether you're building your author platform ahead of your book's publication, promoting a brand-new book, or even trying to give a jump start to an older book, publicity is completely within your reach.
Do I need to be a extrovert or photogenic to benefit from Easy Media Promotion for Indie Authors?
No way! There are ways that even introverts can get their message out into the world through the media. In the lessons, I talk specifically about ways that you can get media coverage without worrying about what you look like on camera or how you sound on recording. :)
What if I am unhappy with the course?
We would never want you to be unhappy! If you are unsatisfied with your purchase, contact us in the first 30 days and we will give you a full refund.
How long do I have access to the course?
How does lifetime access sound? After enrolling, you have unlimited access to this course for as long as you like - across any and all devices you own.
When does the course start and finish?
The course starts now and never ends! It is a completely self-paced online course - you decide when you start and when you finish.
What if I write fiction? Will Easy Media Promotion for Indie Authors work for me?
Yes! One of the core rules I teach is that your most effective publicity strategy is to focus on your expertise, not your book. By following the steps I teach in this course, even novelists and other fiction writers will find a number of ways to make a legitimate case for media coverage.
What if my book is [too new / too old / too unfinished / too something else]?
If you want the media to seriously consider you for media coverage, focus on your expertise--NOT your book! As such, it doesn't really matter whether your book is in print or available. When you follow the steps in this course, you'll be able to make a compelling pitch to the media no matter the case--even if you're still building your brand, or if you need to kickstart your promotion for an older book.
What will I learn in Easy Media Promotion for Indie Authors?
If you follow the step-by-step instructions, you'll know how to send credible pitches to the media again and again--regardless of what kind of author you are, what kind of book you have, and even regardless of how new or old (or even unfinished) your book is!
How is Easy Media Promotion for Indie Authors different from other programs like it?
Instead of a lot of theory, this course is designed to give you actionable, step-by-step instructions that show you how to get RESULTS. Instead of focusing on "what" you should do, this course shows you how to do it!
What is included in Easy Media Promotion for Indie Authors?
This course includes short, to-the-point video lessons, practical worksheets you can download and fill out, printable notebooks, and even transcripts to make it as easy as possible for you to find the info you need. Each module leads you one step closer to your next pitch to the media--and, more importantly, shows you a simple, repeatable system so that you have great ideas to pitch to the media again and again.
I have a book deal with a publisher, will Easy Media Promotion for Indie Authors work for me?
Absolutely! If you're like most authors with a book deal, your publisher will do very little (if anything) to promote your book before they move on to the next titles in the pipeline. However, you can--and should--be building your author platform long before they're thinking about your book, and promoting your book long after it's fallen off their radar.
I haven't finished my book yet. Should I wait before taking Easy Media Promotion for Indie Authors?
Business expert Seth Godin once remarked that "The best time to start promoting your book is three years before it comes out." Your goal should be to growing your audience long before you have a book for sale, so that when it comes out there are already folks waiting for it. There is no reason you can't follow the steps in this course and begin to get media coverage ahead of your book release.
📻 📺 📰 📡 🎙️ 📖

Chris Well is a 30+ year media professional who has worked in print media, broadcasting, and digital media. Over the years, he has seen LOTS of media materials--from authors, speakers, sports figures, recording artists, filmmakers, comedians, business people, and anyone else who has wanted to get through him to reach his audience. Now he teaches authors how to help the media share them with the world.