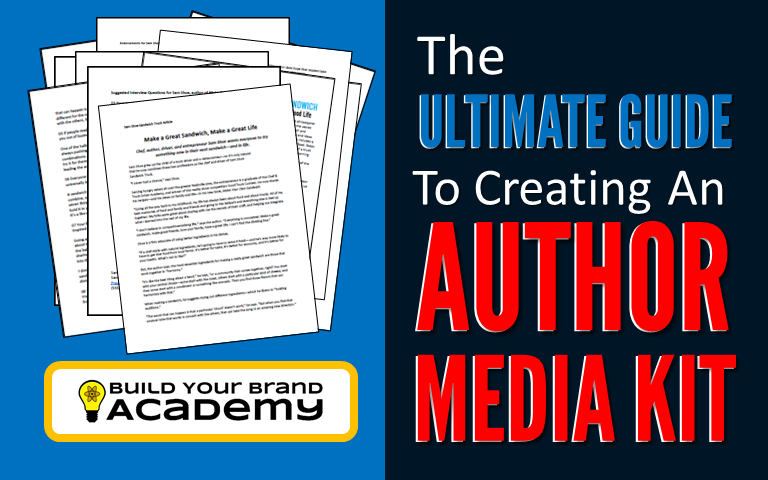 When the media comes to your website looking for your media kit, what will they find?
This is Part 1 of a 10-part series on creating your author media kit:
Part 1 - [You Are Here] - The Ultimate Guide to Creating an Author Media Kit
Part 2 - Writing Your Author Bios
Part 3 - Creating Your Suggested Interview Questions and Author Q&A
Part 4 - Writing Your Feature Article
Part 5 - Sharing Your Endorsements, Reviews, and Testimonials
Part 6 - Packaging Your Book Excerpt
Part 7 - Taking Your Own Author Photo
Part 8 - Presenting Your Book Cover
Part 9 - Creating Your One-Sheet
Part 10 - Making Your Media Kit Easy to Use
FREE AUTHOR PUBLICITY BLUEPRINT!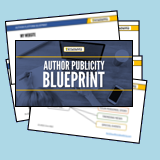 Sign up for my newsletter and get a FREE download of the "Author Publicity Blueprint." This PDF includes a media kit checklist, a book promotion planner, mindmaps, prompts, and even idea starters for your blog.

Click HERE to get it!
Once, when I was a new manager at a media company, one of our magazines was in the final stages of producing an issue when it ran into a problem. The editors needed to bump the cover story interview to the following issue, which left us with nothing to run on the cover of the current issue.
This magazine covered a specific niche, so we couldn't just put anyone on the cover. But the editorial team was too deep into the issue's production cycle to schedule a new interview from scratch—and they certainly didn't have time to wait for anyone to return emails or phone calls.
When I stepped in to help, I knew of a book publisher in that niche which regularly created publicity materials for some of their new releases. I went to the site, clicked around to see what publicity materials were available, and found a Q&A article that fit the bill.
I downloaded the PDF, performed some light editing, and wrote up a new introduction to the interview. We ran that Q&A in the open slot.
Without any advance notice, that author suddenly became the featured interview on the cover of that magazine. It was only possible because her publicity materials were ready, available, and easy to download and use.
Now, stop for a second and imagine that the magazine I'm talking about was a publication in your field or genre. If I'd come to your author website looking for publicity materials to fill that hole in my editorial well—would I have been able to put you on the cover of the magazine? Or would I have clicked around, given up, and moved on to find another author instead?
When the media comes to your website looking for your media kit, what will they find? [Click to Tweet]
A media kit is like an information packet that informs everyone—not just members of the media—about you and your author brand. Think of it as a supercharged business card that tells them who you are as an author, what you do as an author, and what separates you from others in your field. Your information kit answers many of the questions someone would ask about you or your books.
Media kits streamline the process of research. This makes it easier for them to find you, consider you, prepare to interview you, and—here's what you were waiting for—make you famous.
And as you read in the example above, a good media kit also means they can cover you without contacting you. (What a happy surprise that must have been for that author!)
RELATED LINKS:
5 Reasons You Can Do Your Own Publicity FREE
Why Do I Need a Media Kit? 5 Reasons
WHAT ARE THE ESSENTIAL PIECES OF AN AUTHOR MEDIA KIT?
This is the first of a series of 10 articles about how to build your author media kit. In this article, I'll provide an overview of what your kit should include. The subsequent articles will take deep dives into the individual pieces.
In my 30-odd years working in the media, I've been contacted by lots of people—including businesspeople, recording artists, comedians, sports figures, musicians, and authors—who wanted access to my audience. In the process, I've seen lots of media kits.

This series will be driven by what I've seen that worked, and what I've seen that didn't work. I've also accumulated examples that I'll show you over the course of these articles.
My promise is to make this as practical as possible: Whether you write fiction or nonfiction, we're going to talk about how these materials will help you present the right information so that you can expand your reach through attention from the media. You'll be leveraging their platform to build your platform...
KEY POINTS
Your media kit is the anchor of your book promotions. As you're spreading the word, the media kit helps you crystallize what you have to say, and what you need to talk about. It's something you point out from—but also point back to.
Your media kit is not your pitch—it's a tool that you use when you pitch yourself to the media. This kit isn't the publicity itself—it's a collection of pieces that will help you with your conversations with members of the media. You'll get a better sense of how that works as we work our way through this series.
The media kit is on your website so you can point back to it. As you're talking with influencers who have an audience, you're always referring back to that kit. "If you need a photo, here's a link." "If you need a press release, here's a link." "If you need my official bio or more information, here's a link to a download for this PDF."
THINGS TO AVOID
Don't broadcast your media kit. Your media kit should be on your site waiting for people to use. Instead of sending out your media kit, you want to send out different kinds of messages based on what you're trying to do or what you're trying to get. The media kit doesn't go with that message. The media kit is the thing you point back to.
Don't put your media kit on a page of your site that's password protected. Over the years, I've run into this a few times: I need some info about this author or movie or whatever, and run into a page that asks me to fill out a form to request permission for these materials. Most of the time, I don't want to deal with that, so I'll just grab what's available on the site—or just move on and cover somebody else instead. You don't want that. Put your materials on your site in such a way that a person can grab them and use them. You want these people to make you more famous.
Don't make it hard to find or use your media kit. Make it as easy as possible for them to cover you, interview you, spotlight you, or review your book. When you make it easier for them, they're way more likely to promote you to their audiences, remember you in a positive light, and be even more likely to cover you again in the future.
What should go into a press kit? In this series, I'll walk you through the important pieces…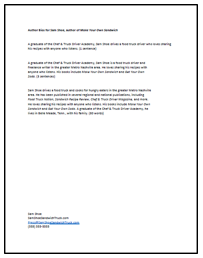 Your author bio(s) are the most important parts of your PR kit. You need to get them right, because you'll refer to them again and again in all sorts of circumstances. In this article, I explain...
What your THREE author bios (yes, I said three) should include
How Superman brought my wife and me together
Why you don't include time-sensitive information in your author bios...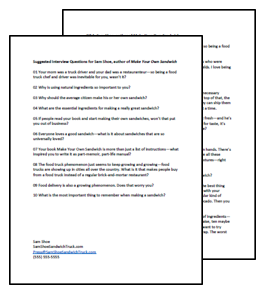 A set of pre-written questions can help your interviewer stay on topic. Some would appreciate if you go the extra step and pre-answer some of those questions, too. In this article, I explain...
What these questions should focus on
Why your interviewer will thank you
What kinds of questions to AVOID...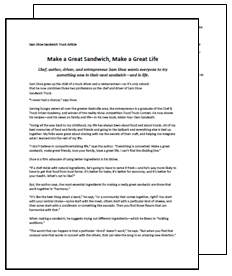 A sample feature article is way to help the media see your story faster. In fact, some editors may even print it as-is. In this article, I explain...
How the media might use your feature article
Why it's not your bio (even though some insiders will call it that)
What makes this piece different from a press release
Why you don't (necessarily) have to create this from scratch
Quotes from others about your work carry more credibility than what you say about yourself. In this article, I explain...
Why these different kinds of quotes are important
How you can collect them
How you can include them in your media kit
Providing a sample of your book exhibits your style and can generate enthusiasm about your work among influencers in the media, publishing, and even prospective readers. In this article, I explain...
Why the excerpt complements everything else in your media kit
What to AVOID with your excerpt
How to package it for the media to get the most out of it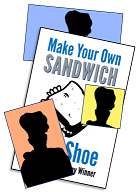 Love it or hate it, if you want to get media attention and grow your audience, people need to be able see what you look like. In this article, I explain...
What the media experts to see in your photo
Best tips for your author photo--whether you do it yourself or hire someone else
How you can take a new author photo (relatively) easily this weekend
What you must AVOID with your author photo!
Promoting a book? It's a no-brainer that you need to show 'em your book cover. But there's a right way to do it--and a wrong way. In this article, I explain...
What members of the media expect to see of your book cover
How to present your book cover with your media materials
What you should NEVER do with your book cover
Your digital media kit should include a one-sheet, sometimes also called a "sell sheet" or a "tip sheet." This serves as kind of a one-page version of your media kit. It will especially come in handy when you talk to event planners, libraries, or booksellers. In this article, I'm going to explain...
Why some would call this the MOST IMPORTANT piece in the entire kit
Who besides the media would also like to see it
How this piece brings together the best of all the other pieces in your kit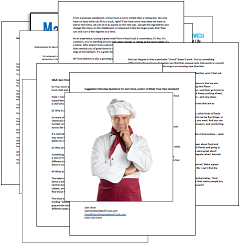 In the final article, we'll go over how to assemble all the pieces into an actual media kit. We'll go over the formats for your pieces, how to store them online, and how to make them convenient for folks to find, download, and use. In this article, I'm going to explain...
Why this kit should be the first part of your promotional plans
How to make it easy for the media to find and use your materials
Pitfalls that drive members of the media (well, me anyway) crazy...