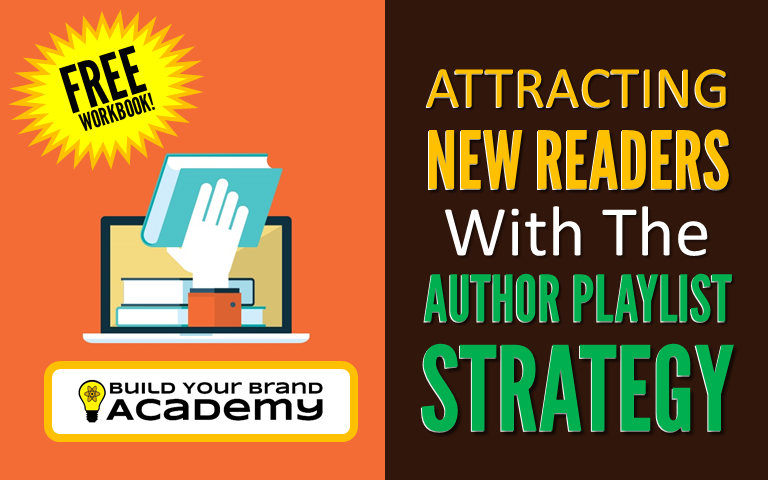 FREE WORKBOOK! If you want help creating your Author Playlist Strategy, I've created a free download to help you out. Look for details below...
Struggling to get new readers to notice you? Think of another author in your genre or category with a readership. It'd be nice if you could pull a lever and get some of those readers to notice you, too, right?
One way to get their attention is to leverage what I call an "Author Playlist Strategy." This is a simple way to associate yourself with other authors so that their readers want to know more about you.
WHY A PLAYLIST?
Over my years in the media, I've worked at music magazines that understood this principle. We'd create sampler CDs to introduce our readers to new artists, and publish articles that list artists from the same genre.
In radio, we built our formats on this concept. Most radio stations program around some common denominator, such as a musical genre or other theme.
If you listen to music through a streaming service, it probably makes recommendations based on what you listened to before. "If you like these artists," they say, "maybe you'll like this one, too."
Another way to think of this concept is to consider endcap displays at your local store. The "endcap" at the end of each aisle often features products that are somehow related--maybe they're all on sale, are seasonal items, or are variations of the same thing.
At a library or bookstore, an endcap featuring authors or books might focus on a genre or type of book. A book display might feature thrillers, cookbooks, local authors, or seasonal titles.
"If you like one of these," the displays suggest, "check out some of the others."

BUT HOW DO I USE THIS TO PROMOTE MY BOOK?
Experts say that only 20-percent of your online content and social media should be about you. What do you talk about for that other 80-percent? A list of related authors should give you a useful resource to start.
When you apply the principle of a playlist or endcap, you can build an audience drawn to authors and books they already know. When you leverage books and authors that people recognize, you can draw that attention to your work.
There's no guarantee they'll all want to know you—but this kind of audience will be WAY more responsive to your book promotions than a bunch of random strangers.

GET THIS FREE WORKBOOK
If you want help creating your Author Playlist Strategy, download this free workbook. Within minutes you can start using the Author Playlist Strategy in your content marketing today. GET IT NOW!

CREATING YOUR OWN PLAYLIST
By the end of the simple exercises in this article, you'll have a list of the best authors to talk about in your book marketing. You can leverage their popularity on your blog, on social media, or in your emails. The more you can say something interesting about authors who are like you, the more you can attract a crowd of people who should like what you write, too.

There are two steps to creating your own playlist:
Narrow down your type of writing.
Make a list that includes a mix of anchor authors, middle authors, and peer authors.
---
STEP #1 - NARROW DOWN YOUR TYPE OF WRITING
---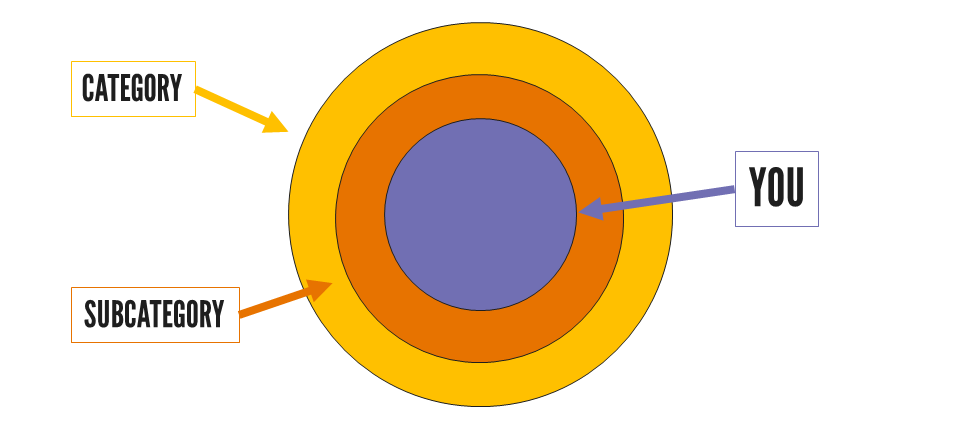 Think of three circles, one inside the other. The largest circle represents the top-level category in which you write. The second circle—smaller than the large one—is your subcategory. The circle in the center represents your unique position inside your writing category.
Let's start at the top...
---
YOUR CATEGORY
Write down the top-level category in which you write. This is the broad category or genre as a bookseller or library would list it.
For fiction, it might be...
Mystery
Romance
YA/Teen Fiction
Historical Fiction
Thrillers
Women's Fiction
Science Fiction & Fantasy
Christian Fiction
Horror
...or another genre.
For nonfiction, the category might be...
Biographies
Cooking
How-To
History
Business
Religion
Science
Parenting
Politics
...or another category.
The big circle represents the broadest definition of your writing subject matter.
---
YOUR SUBCATEGORY
Inside the middle circle we find a smaller sub-section of the top-level category.
If your top-level category is, say, "romance," then your subcategory might be...
Historical Romance
Paranormal Romance
Romantic Suspense
Inspirational romance
Clean romance
...or another subset of romance fiction.
If your top-level category is, say, "Self-help," your subcategory might be...
Productivity
Social Skills
Health
Relationships
Finances
...or some other subset of self-help.
As we move toward the center, the second circle represents a narrower set of authors and books in your broad category.
---
YOUR SPIN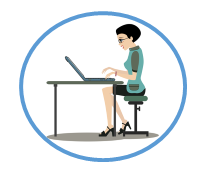 Now we've reached the center, which represents your slant or take on this category. This is where you drill down into what's unique about your writing.
Are you funny or serious?
Are you speaking to professionals or amateurs?
Do you write from a political or religious perspective?
Are you writing for a certain age group?
For your list, start with authors who are also close to the center circle.
If you write funny crime stories, find other authors who write funny crime stories.
If you write how-to books for newly divorced moms, find other authors who write for the same audience.
If you write thrillers with a political bent, you want other authors who write thrillers from the same perspective.
With these three spheres in mind—authors in your genre, authors in your subcategory, and authors who are like you—now you can begin working on your list...
---
STEP #2 - CHOOSING YOUR AUTHORS
---
Your master list should include a mix of three types of authors:
Anchor authors
Middle authors
Peer authors
Let's take each type one at a time...
---
ANCHOR AUTHORS
These are the authors in your genre who are famous—even to people who don't know anything else about your genre. This name serves as a kind of shorthand for the category.
For example, John Grisham writes thrillers—more specifically, courtroom thrillers. He's well-known among genre fans, but also by members of the general public. His readership includes people who don't read any other courtroom thrillers.
So, you while anchor authors will draw a crowd, you shouldn't focus exclusively on authors at this level. Otherwise, you risk drawing a crowd that doesn't actually care about your category.
Another reason that your list shouldn't only be anchor authors is that most of them are out of reach for any kind of partnerships. They're either too famous, too busy, or dead.
Which is why you should also include authors from this second category…
---
MIDDLE AUTHORS
These authors are known to fans of the genre, but they're not household names. They're a little ahead of you career-wise, but might still be relatively easy to network with. They may be willing to be a guest on your blog or agree to a podcast interview.
And then the third list is the easiest to work with…
---
PEER AUTHORS
These authors are in roughly the same place as you in their career. They've published a similar number of books, are signed with the same size publisher, or also self-published. These authors are generally very easy to partner with for coordinated promotional efforts.
---
STEP #3 - PULLING IT TOGETHER
---
When filling out your list, you want 3-5 authors of each type that are also as close to your center as possible. Then you can expand to include authors from your subcategory. Only for those last few authors should you expand to include the broad category.
If you have trouble finding enough relevant authors, try clicking through your subcategory on Amazon. You can also go to a search engine and type in as many search terms as necessary to find the right authors.
The key is to find authors whose readers would reasonably also enjoy your work. Your list should be more specific than "Historical Fiction Authors" if you actually write "Christian historical romances where time travelers fight zombies in the Middle Ages."
Your master list should include 10 to 15 authors from different strata that write books very much like yours. These are the go-to authors for you to write about, interview, quote, or review their books.
As you include these authors in your online content, you are now associated with them. When fans of those authors check out your blog—because of these other authors—they see you as one of them. This way you can attract readers who follow authors who write the same kinds of things as you.