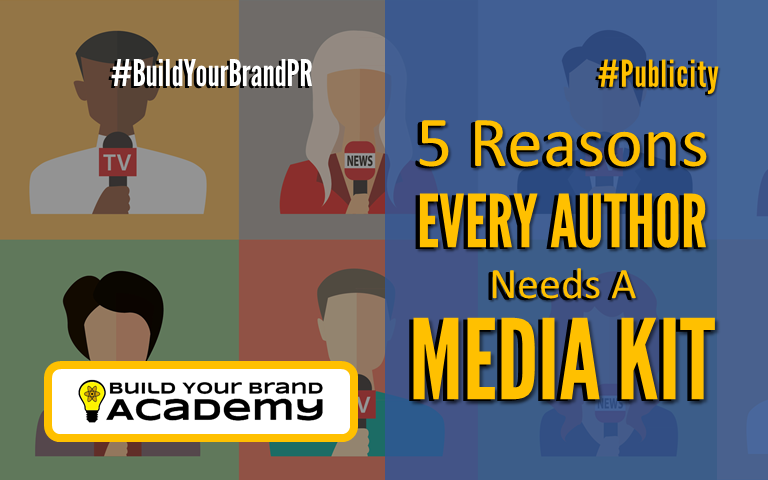 Keep reading for details about a series of FREE online workshops to help you create your media kit!
Imagine this: An influencer with a massive audience becomes aware of you and visits your website looking for more information. Maybe it's a...
Talk show producer considering you as a guest.
Columnist wanting to include you in a roundup article.
Podcaster who wants to interview you.
Bookseller or librarian considering whether to carry your book.
Event planner thinking you might be a potential speaker for an upcoming event.
Reader who stumbled across your website and wants to know more.
Here's the problem: What happens if they show up at your website and you don't have the right PR materials?
The media kit is an essential tool for every author who wants to leverage the power of the media to build their brand. This set of PR materials gives media influencers and others a clear snapshot of what you have to offer.
If you--
want to be interviewed, profiled, or featured in print, broadcast, or digital media
want your book to be written about or spoken about or reviewed
want to become known as an expert in your field
want to establish your authority
want to build your audience
want your book to be sold to book buyers and made available to library patrons
--then you need a press kit. The key is that the right publicity materials need to be in place before they learn about you.
RELATED: The Ultimate Guide to Creating an Author Media Kit
Join the FREE 5-day "Author Interview Challenge" and learn how to pitch yourself for a media interview without being pushy or self-promotional. Click HERE to register!
---
FIVE REASONS EVERY AUTHOR NEEDS A MEDIA KIT
Not convinced yet that you need a press kit? Here are five reasons you need one…
#1 – A media kit anchors your book promotion.
As you hone your messaging for these PR materials, it helps you clarify what you represent. All your efforts to promote your book will either spring out of—or point back to—your publicity materials on your website. Whether you're pitching yourself for an interview, submitting a guest post, or creating promo materials for your own use, your author press kit forms the base for all your marketing.
#2 – A media kit prepares you for attention.
Promoting your book and building your brand will attract attention. When those people come looking for specific types of materials, you don't want to be scrambling to make what should have been on your website in the first place. After all, these people are trying to promote you!
#3 – A media kit articulates why you're special.
The materials in your author kit explain what sets you apart as an author or expert. What do you do that makes you stand out? What experiences do you have that separate you from others in this category? What's your unique angle on teaching in this space? A media kit helps that blogger, reporter or media producer understand why you should be spotlighted through his or her media outlet.
#4) A media kit explains you to more than just members of the media.
In the old days, a "media kit" was created exclusively for use by news organizations. Today, your media kit can—and should—be seen by more types of people than ever before. In addition to decision makers at media outlets, your online press kit can help you build bridges with influencers, event planners, booksellers, librarians, and your new readers.
#5) A media kit works whether you're there or not.
A great benefit of PR materials on your website is that an influencer can grab it any time, day or night. Some will be doing research and want to connect with you later—but some will take what they find and run with it. (This is a good thing.) Either way, your brand is being shared with the world!
Join the FREE 5-day "Author Interview Challenge" and learn how to pitch yourself for a media interview without being pushy or self-promotional. Click HERE to register!