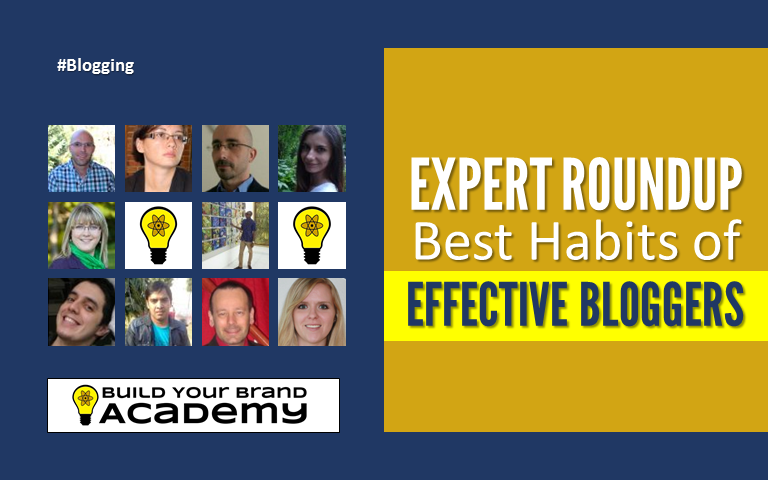 A blog can be the foundation for your author platform. But if you plan to leverage it to grow your online authority, it's not enough to launch the blog—it's important to connect with your readers and keep them coming back. But what are some of the best habits for bloggers? Below, find practical ideas to help you move your blog efforts in the right direction.
Questions for our panel:
Q. What helps you stay on schedule or on topic?
A. bestoffitness (Creator of thebestoffitness.com)
Staying on schedule is my biggest downfall as my days are never really the same, but I find it easiest to wake up early or work late at night to avoid distractions. I will block off an hour to blog, and then work throughout the day when I have time. I would prefer to have a full two-hour block, but I have to work with what I've got.
A. Joe Balestrino (Founder and CEO of 4PointDigital)
Brainstorming ideas and discovering previous posts on a specific topic that did really well in search and on social channels. I like to find users' problem areas or the things they most care about the topic, and then research all related facets of the topic. This keeps me able to include the most informative content segment about the writing agenda. "Actionable items" posts perform well in social as well. Content becomes more effective when paired with social media.
A. Martini Fisher (Mythographer, Author)
In general I am quite strict with my schedule--I have to be. I juggle lectures, book and article writings, as well as promotions for different people and associations. To keep my blog going, and to keep myself active in social media, I automate as much as I can. The topics you'll see in my blog are the topics that I have scheduled weeks in advance. The choice of topics also helps in maintaining my schedule. I keep my topics as closely tied together as I possibly can in all areas of research, books and blog. For example: This week my research happens to be sun legends from different cultures--my blog would contain a little element of that research, be it an interview with someone who mentions the subject, something I just found out while I was researching, and so on. It keeps me on topic and prevents me from being overwhelmed by different ideas, and it's a usefull way to keep my notes in order.

A. Minuca Elena (Minuca creates awesome influencer roundups that provide quality content, brings huge traffic, and helps bloggers connect with influencers.)
One word: Practice. When I started blogging I was very insecure about my writing skills. I was afraid that no one would read my posts and I even thought there will probably be a few people that click on my link and end up regretting it. I didn't want any reader to think that my posts brought nothing new, useful or interesting to the table.
The fact that I am not an English native speaker also diminished my confidence.
Over time, I had to face these fears. Slowly but surely, my English became more polished, and I got many opportunities to be featured as an expert in roundups and interviews. Besides this, having friends that proofread my posts helped me a lot and further strengthened my confidence in my blogging abilities.
A. Anita Kirkbride (Social Media Strategist)
I keep a running list of topics as draft posts in my WordPress blog. This ensures I can never use the excuse "I don't know what to write about"! As soon as I think of a blog topic, I set it up as a draft post and add it to my graphic designer's schedule. Sometimes the schedule gets jiggled around, but there's always a post topic waiting in the queue. This keeps me on schedule to provide a new blog every week.
As for keeping on topic...
Most of my blog topics come from my clients! When clients ask a question, if I can't direct them to a blog post I've written, I add it to my list of things to write about. Not only does this become a very helpful resource for my clients, it's great for SEO. When people in my city are looking for information on how to do things on social media, Google kindly shows them the posts I've written.
A. Daniel Ndukwu (Founder of The Experiment )
By far the most important thing to help you stay on topic is to continually educate yourself about the topic. Instead of sitting down and having to brainstorm a new topic every Monday, you should be completely immersed in what you write about on your blog.
It helps you develop a unique perspective through trial and error while giving you in-depth knowledge. You'll be able to spot new opportunities and educate your readers with nuances only understood through experience.
A. Ike Paz (Your friendly neighborhood content marketer )
My Google Calendar is a great reminder of my responsibilities. The cool thing is, it notifies my mobile and my desktop as long as I'm logged into my Gmail. Another important ingredient to habit-forming success is keeping the task small and easy to manage. If I need to write out a thousand-word post once a week, then I sit down twice a week to write out 500 words at a time.
Constant study, research and relevant blogs help me to get around the targeted topics I want to write about. Whenever I plan write about a topic, I first go through the similar articles or posts that did well previously. From there, I gather ideas and points to make my post better than the other posts about the topic. Buzzsumo and other tools help.
A. David Leonhardt (President, THGM Writers)
Nothing can keep me on schedule--I'm hopeless. The thing is that clients come first, promotion second. When it comes to promotion, if I have just a little time, I would rather spend it networking or promoting current content, than creating new content. My hierarchy of blogging is this:
1. Top quality content
2. Promote, promote, promote
3. Frequency of content
So if things get busy, frequency is what goes out the window. And that's OK.
On-topic is easier. I often post possible topic ideas into WordPress and start collecting ideas and links. When I have enough ideas, I know I'm ready to blog.
A. Angela Stairs (Best Habits to Write an Effective Blog: Tips )

Planning is key in successful content coordination. I like to create a monthly content calendar and have my topics picked out at least a month in advance. This gives me enough time to craft the content according to schedule, and gives me a buffer for any problems that may arise. For example, if a certain post is running behind schedule for some reason, I can simply bump it to the next week in place of another, etc. Planning ahead also helps me ensure I am taking advantage of all relevant seasonal and event-based topics, ie. holidays, seasonal topics, etc.
Q. What habit or habits have helped you blog more effectively?
A. bestoffitness (Creator of thebestoffitness.com)
I believe that you should also have a plan before starting your blog or you will just waste a lot of time.
My process includes:
1. Keyword Research
2. Research topics based on keywords
3. Create a blog that is better than most found on the first page of Google
4. Find pictures for the blog post
5. Promote the blog
A. Joe Balestrino (Founder and CEO of 4PointDigital)
I keep learning and testing. I read as much as possible about SEO, social marketing, B2B and B2C marketing. Attending webinars and conferences, trying and testing online tools that can help me improve my services, and subscribing my favorite blogs give me ideas for future aspects I should consider for writing my new blog post. My personal blog is http://joebalestrino.com/blog/ though I write on various web and print publications.
A. Martini Fisher (Mythographer, Author)
I think about how the blog will work for me instead of how I work for the blog. This means that I start with the mindset of "writing this blogpost is beneficial for me" and I make it that way. My blog is not only a way to connect with my audience, or a way to gain new audience, it is also how I fine-tune my style of writing and where I keep my notes and drafts which I think may be useful for a future book or article.
I set half a day to write as many blog posts as I can and schedule the posts once every two weeks. What I write usually ties in to a research or a musing related to a research, so even before I write a blog post I would already have notes and references to go by, which makes the writing so much quicker.
Remember that I am writing a blog, not a peer-review paper. Yes, I would still be talking about the same subject that one would find in my books, but it is much more informal, giving me room to make mistakes if I have to, and giving people freedom to comment or message me if they want to talk more about the subject.
A. Minuca Elena (Minuca creates awesome influencer roundups that provide quality content, brings huge traffic, and helps bloggers connect with influencers.)
Last year I was dealing with insomnia. I couldn't sleep until 3-4 a.m. and I would wake up at noon. The problem was that I couldn't work or focus after 10 p.m., so I was wasting time by watching shows or listening to music. Changing my sleeping habits helped me focus. Now I wake up at 7-8 a.m. and go to sleep by 11 p.m.
Having a regular sleeping program definitely has a big impact on my productivity.
I also think that the mindset is very important. You have to be focused on your tasks, and not let distractions interfere with your workflow. Use social media as a way to build relations with other bloggers and to promote your articles.
Don't waste time jumping from one link to another, watching funny cat videos. Invest time in learning more about how to build your brand and implement the strategies to see results.
A. Anita Kirkbride (Social Media Strategist)
The best habit I have created is one that came from my graphic designer, actually. When I contracted her to do all my blog graphics weekly, we set up a simple task list in Google Sheets that tracks blog topics and when they are due. She always knows what topics are coming and when, and I always have my graphics ahead of time and can easily juggle the schedule if something new comes up. Just having that schedule to follow and knowing that I'm in a way accountable to her for her time makes me more accountable to myself.
A. Ike Paz (Your friendly neighborhood content marketer )
It's really important to associate the new habit with something enjoyable. Example: I always edit videos with a cup of coffee because I love coffee. Now I look forward to editing videos!
I also promise myself that I will stop editing videos as soon as I finish my cup of coffee. You might think that I'd race through that cup of jo, but the opposite is true. I take my time and it's very productive.
It's effective to ask others for their ideas on a specific subject. That's why I like MyBlogU's Brainstorm section; members are always ready to help. I also let my friends to go over my post. Connections really help.
A. David Leonhardt (President, THGM Writers)
Take notes. By placing notes and ideas and links directly into WordPress, I can assemble all the interesting information I might want. I have several posts on the go right now. Some won't have enough meat, so they'll never be written. Others will develop into masterpieces. :-)
If I just jot down notes on paper, I'll probably lose them in the mess on my desk. Having a place to sort the ideas is paramount, and what better place than right in WordPress.
A. Angela Stairs (Best Habits to Write an Effective Blog: Tips )

I've begun to follow key leaders in my industry, making sure to check their Twitter accounts every few days, at least. Following individuals with their fingers on the pulse of the industry is a good way to get information before it even makes its way to the news sites. This way, you get the opportunity to share your thoughts and insights on the topic with your followers before they read it somewhere else--great for boosting your reputation for thought leadership.
Meet Our Panel
bestoffitness

bestoffitness01

10 years in the fitness industry and 3 years in website/seo design

Joe Balestrino
Joe Balestrino is the CEO and Founder of 4PointDigital, NJ's leading digital agency helping people by offering a full range of superior web services that are cost effective to their business.

Martini Fisher

martinifisher

Author of "Time Maps: Australia, Early Sea Voyages and invasions"

Minuca Elena

MinucaElena

Minuca Elena

Minuca Elena

Anita Kirkbride

anitakirkbride

I have been blogging since 2007, first on a hobby blog and now, professionally as a part of my marketing and SEO strategy for my own business.

Daniel Ndukwu

daniel_ndukwu

daniel ndukwu

Blogging, SEO, Growth Marketing, tribe building

Ike Paz

IkePazz

7 years creating and marketing my content. I sell baby shower print on my eCommerce site.

Shyam Bhardwaj

shyam_bhardwaj

Shyam Bhardwaj

David Leonhardt

amabaie

David Leonhardt

Angela Stairs

seopluscanada

Angela is a Content Marketing & PR Specialist with seoplus+. Angela is an adaptable writer with experience in journalism, communications and marketing. She is an expert in the realm of digital communication, harnessing the power of social media, strategic PR and link building, content optimization, and online publishing tools to gain traction for clients within target audiences.
gapi.comments.render('comments', { href: window.location, width: '624', first_party_property: 'BLOGGER', view_type: 'FILTERED_POSTMOD' });