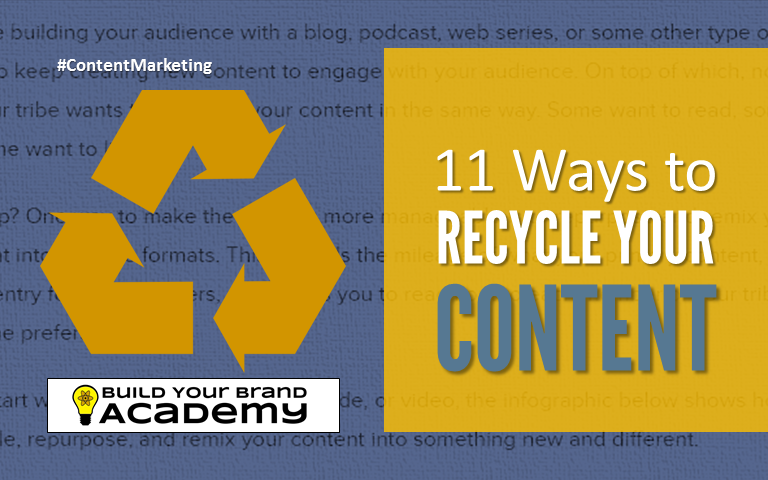 Whether you're building your audience with a blog, podcast, web series, or some other type of media, it can be tough to keep creating new content to engage with your audience. On top of which, not every member of your tribe wants to consume your content in the same way. Some want to read, some want to watch, and some want to listen.
How to keep up? One way to make the process more manageable is to repurpose and remix your existing content into multiple formats. This extends the mileage of what your primary content, creates new points of entry for new followers, and allows you to reach out to each member of your tribe in the format he or she prefers.
Whether you start with a blog post, podcast episode, or video, the infographic below shows how you can reuse, recycle, repurpose, and remix your content into something new and different.
Further reading:
How to make 8 pieces of content from 1 piece of content (Convince & Convert)
http://www.convinceandconvert.com/content-marketing/how-to-make-8-pieces-of-content-from-1-piece-of-content/
How to Turn One Piece of Content into Five (Hubspot)
http://blog.hubspot.com/blog/tabid/6307/bid/10870/How-to-Turn-One-Piece-of-Content-into-Five.aspx
How To Turn One Piece Of Content Into Five Pieces Of Content (Marc's Blog: Digital Marketing & Entrepreneurship)
http://marcguberti.com/2015/03/how-to-turn-one-piece-of-content-into-five-pieces-of-content/