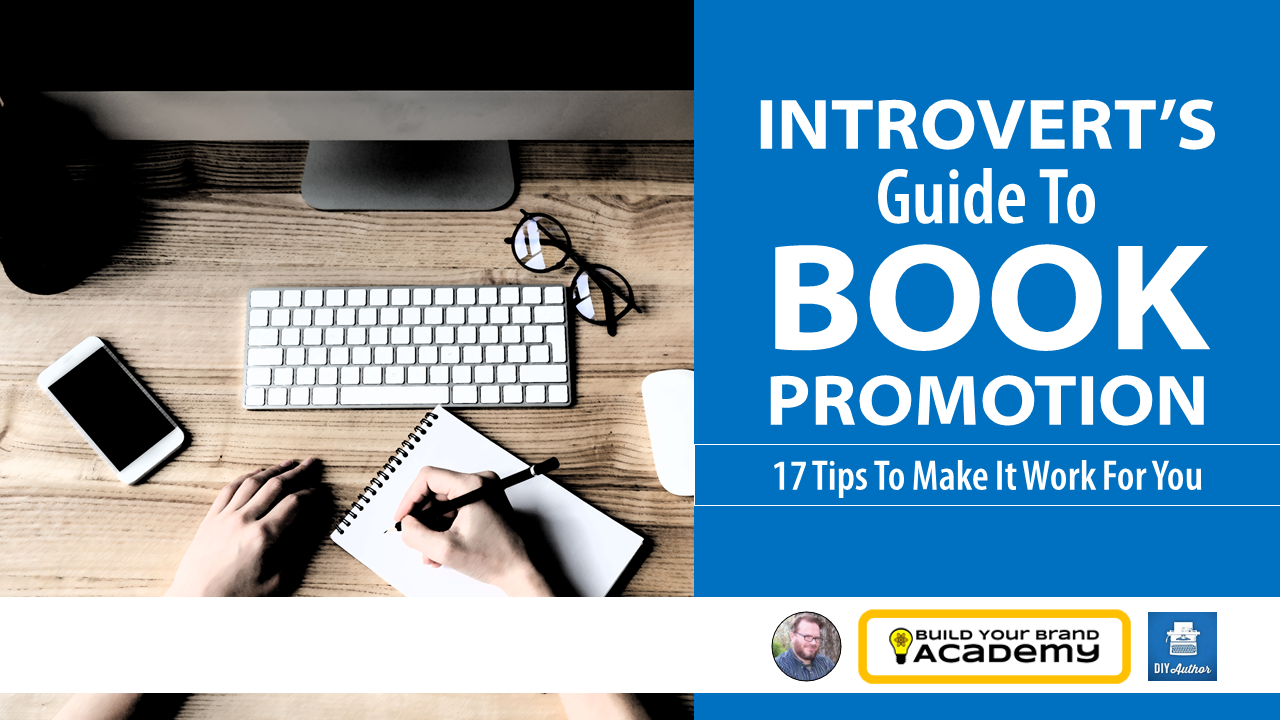 Prefer to keep to yourself? The idea of self-promotion might make you uncomfortable—but it's still possible.
Do you hate being the center of attention? Is that making it hard to promote your book?

I'm sure you've heard time and time again about the importance of developing your author platform. If you want to be seen as a leader in your field—or even one of the viable options—you have no choice but to create a brand that tells influencers and readers who you are and why you're special.
Do any of these sound like you?
You need to collect your thoughts before you speak.

You prefer small groups to large crowds.

You function best when left alone.

You start to panic even thinking about being interviewed live or on a recording.
If one or more of these describes you, that doesn't mean you can't still promote your book. Just because you don't want to be on the talk show circuit doesn't mean there aren't opportunities more in line with your sensitivities.
But let's be clear: Being an introvert is no excuse to do bad book promotion. That only makes the problem worse.
Besides, I have a surprise for you:
You don't hate marketing. You hate doing it wrong.
Good marketing is telling stories. You like to tell stories, right? You're an author, aren't you?
If you prefer to keep to yourself, the idea of self-promotion can feel uncomfortable. But it's still possible.
Here are 17 tips to promote your book even if you're shy or need to protect your personal space...
---
#1 - Practice Explaining What You Know. 🗣
Before interviews, it never hurts to practice answering questions aloud at home or in the car. Some like to practice in front of the mirror.
Others like to record their answers into a free audio program like Audacity or Garage Band and then listen to the playback. You might even record yourself on camera with a free tool like Zoom and watch the video.
Need the give-and-take of talking with another person? Hand a set of questions to a friend or colleague and do a mock interview.
If that media outlet has sent the official questions ahead of time, great. But in a pinch, you can also create your own set of possible questions.
Need help planning your book publicity? Download this Author Publicity Blueprint.
---
#2 – Develop A Persona. 🎭
Getting into "character" can relieve the pressure of feeling too vulnerable. Take on a role:
Are you a teacher? Focus on your teaching.

Are you a thought leader? Focus on sharing your perspective.

Are you an expert? Focus on demonstrating your expertise.


Are you a storyteller? Focus on drawing us into the tale.
---
#3 – Be Prepared. 📝
Speaking off the top of your head is a fast way to get lost in the weeds. In my early days in radio, we had a saying: "You don't ad lib your name." Even the pros can blank out as soon as that ON AIR sign comes on.
I was taught to keep notes handy with names and key information. (In a broadcast studio, you'll probably find a big clock and a sign with the station's call letters facing the announcer's chair.)
When you're prepared, you can more comfortably share your point or offer something meaningful to the conversation.
Recording promo materials? Write a script first.

Prepping for an interview? Sketch or print out some notes.


Going to be interviewed online? Take the time to become reasonably familiar with the tools or platform before the day of the interview.
---
#4 – Be Early. ⏰
Give yourself plenty of time. When you're ahead of schedule, it gives you the opportunity to sit, take a breath, and relax. Don't wait until it's time for the interview to figure out how to get there or how to do it.
If you're going to meet them in person: Give yourself time for traffic, to find the location, find a parking space, and get to the right door.
If you're calling in or connecting online: Give yourself time to dial in or make the connection—and still have time if you need to re-dial or reconnect.
---
#5 – Turn The Focus Away From Yourself. 👉
Publicity can sometimes feel like you're climbing a very tall ladder. As someone who's personally afraid of heights (don't judge me), here's my advice to you: Don't look down and you'll be fine.
In the same way, when you're in front of that audience—don't focus on yourself. Focus on them.
What topic or angle can you share with that audience that will educate, enlighten, or entertain them? Stick with your expertise and you'll be fine.
Want help figuring out what to pitch? This Author Publicity Blueprint includes mindmaps and brainstorm prompts to help you do just that.
---
#6 – Embrace The Topic You Love. 🤗
You're a fan of your own category or genre, right? If you're at a party and someone there also loves it, are you eager to compare notes as a fan? So many authors get tripped up because they think they have to sell the book.
But the best sales tool is to talk about the experience your book gives the reader. Which is great for you, because it means you get to talk about this category that you love. That sounds easy, right?
---
#7 – Show Your Authority. 🎓
One of the central tenets of book promotion is that you have to show you know what you're talking about. As you draw us into the interesting points of your category, you are also helping us recognize you as a leader in your field.
Don't feel self-conscious about it. You're helping us love this category like you do.
---
#8 – Don't Feel Like You Have to Brag. 😨
Some get confused and think that "demonstrating your authority" is a form of bragging. It's not. (In fact, if you're bragging, you're doing it wrong.)
Instead of saying how "great" you are, drop the proclamation and just teach us about the subject you know so well.
---
#9 – Seek Out Email Interviews. 📧
With the ease and accessibility of email, it's normal for many text media outlets to conduct their interviews completely via email. Being interviewed by email has to be the least stressful format for the guest.
You don't have to worry about how you sound on the mic or how you look on camera.

You aren't on the spot.

You can take time to think through your points.

You can take a break.
Have something to drink. Eat a snack. Ahhh. That doesn't sound so bad, does it?
---
#10 – Make Videos Where You're Not On Camera. 💻
There are inexpensive and even free tools that allow you to create videos where you don't have to show your face. These are especially useful for converting blog posts into videos for social platforms.
You can also consider screenshare demos or walkthroughs.
My favorite tools for these kinds of videos right now are Lumen5 and Loom, both of which offer free tiers.
By the way, here's an example of a video I made on Lumen5...
✋ Raise your hand if you're an INTROVERT struggling with PROMOTING YOUR BOOK!
I wrote this article JUST FOR YOU...
➡ Introvert's Guide to Book Promotion: 17 Tips To Make It Work For You ⬅
Read it HERE:
https://t.co/jvgZXLnXak
#SelfPub
#PR
#BookPromotion
pic.twitter.com/6j6ElJBsFG
— Chris Well 🚀 (@BuildYourBrandA)
October 25, 2018
---
#11 – Take the Microphone. 🎙
If you're not too keen about being on camera, how about recording your voice? Even a little bit can go a long way toward developing a presence with your readers.
It's not difficult to edit out mistakes, pauses, or even random noises. And if you have to re-record a sentence here or there, who's going to notice?
For editing audio, I love the free, open-source tool Audacity.
---
#12 – Be On Camera…A Little. 🤳
One way to acclimate yourself to being on camera is to make a 30-second intro for a video and then switch over to slides and voiceover.
If you stick with evergreen topics—like a welcome video for your website or Facebook group—your video won't go out of date for a while. That gives you the breathing room to work on this without trying to beat the clock.
I create my slides in PowerPoint. You can also make slides in Canva or Crello with a free account.
For video editing, my favorite tool for Mac users is Apple's iMovie. (Now that I'm on Windows, I bought Movavi because it was the closest I could find to being as easy to use as iMovie.)
---
#13 – Make Pre-Recorded PR Materials. 🎛
You can make short video or audio clips for your PR kit where you answer some of the questions from your Suggested Interview Questions. While a real media interview is out of your hands, creating these kinds of clips yourself gives you the luxury of editing them how you want.
Need a checklist to know what goes in your media kit? Download this Author Publicity Blueprint to get started today!
---
#14 – Think Small. 🎯
Is it hard to work up the energy to get in front of big groups? Aim for smaller opportunities. This can include niche media, local media, or speaking to small groups. This is a low-pressure way to practice showing your expertise in front of people.
And they build your credibility: If you do want to graduate to larger opportunities, they're more likely to trust you when you have previous appearances on your resume.
---
#15 – Pace Yourself. 🏃
As media consumers, we're accustomed to seeing the media blitz surrounding a blockbuster release. Celebrity guests seem to be whisked from one appearance to the next.
But you don't have to be bound to the "blockbuster" mindset. Your book isn't perishable fruit; the publication date doesn't equate to an expiration date.
As long as your topic continues to be relevant, you can take your time. There's no reason you can't spread your book promotion out over several months.
---
#16 – Plan For Quiet Time. 🤫
Don't schedule things too close together. If you're an introvert, then it's likely that dealing with the attention of others can drain your energy.
Be sure to plan for calm downtime before and after promotional events. Take time to reflect. And breathe.
---
#17 – Relax And Stop Worrying About It. ☺
It's scary to put yourself out there. I get it. Just because you see me putting myself on camera doesn't mean I don't have to work up the nerve each time.
But sometimes you need to stop worrying about it and get on with it. The stage fright won't necessarily go away—but it can become manageable with practice.
---
The noisy online world can seem like an exclusive club for authors who are more outgoing than you. It can be intimidating.
But you aren't competing with them. All that matters is sharing what you know with your ideal audience.
It's OK to take things slow. It's OK to start small. One step at a time.
You can be an introvert and also have an author platform. You can still build bridges with influencers and potential readers. Just play to your strengths and promote your work in a way that fits you.
Here are links to the tools I mentioned:
Get your book promotion organized with my Author Publicity Blueprint.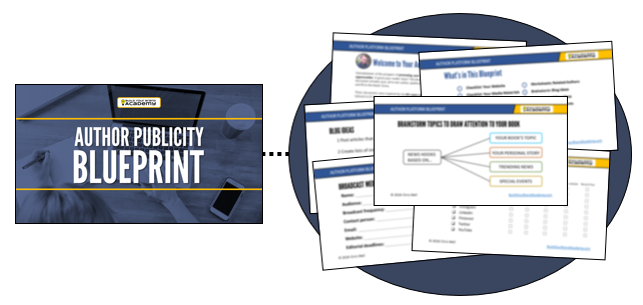 This free download incudes fill-in-the-blank forms, checklists, brainstorm prompts, and even mindmaps to help you
get ready for the media,

create your pitch,

and leverage that to build your author platform.

Just click the link to get your free Author Publicity Blueprint today!