People are always interested in learning about something new or unusual.
One way to be "newsworthy" is NOVELTY OR RARITY. But remember that what's remarkable to you isn't necessarily remarkable to them. You may think it's pretty remarkable that you wrote a book, but lots of people have written books.
"I have a book" is only unique if you live in a small town where it's unusual for somebody local to have a book, or if you overcame some uncommon circumstance to publish your book.
Figure out an angle related to your topic of expertise that focuses on something rare or unusual. What topic would strike an audience as out of the ordinary?
FREE AUTHOR PUBLICITY BLUEPRINT!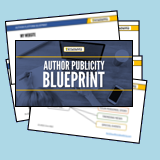 Sign up for my newsletter and get a FREE download of the "Author Publicity Blueprint." This PDF includes a media kit checklist, a book promotion planner, mindmaps, prompts, and even idea starters for your blog.

Click HERE to get it!
GOT A QUESTION OR COMMENT? CLICK BELOW TO DISCUSS ON FACEBOOK!
Next: CONFLICT
RELATED LINKS: