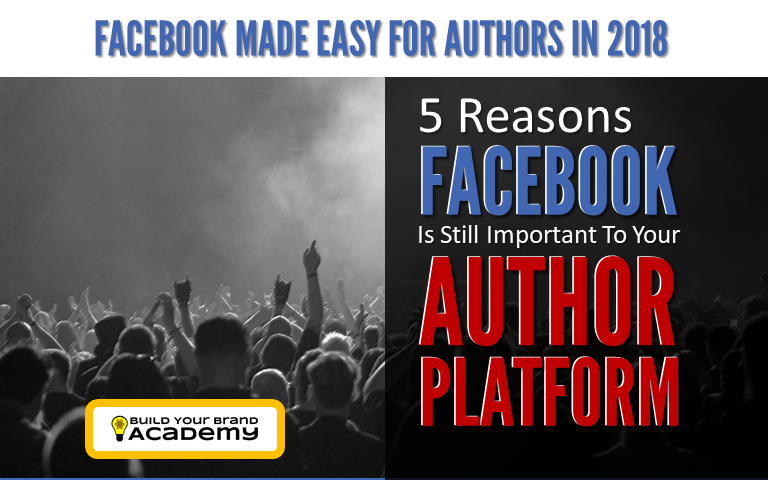 If you want to build an audience, Facebook needs to be part of your plans in the coming year.
Sometimes you need a dangerous animal for the system to work. Back in the 1930s, the wolf population was killed off in Yellowstone National Park. Of course, at the time this seemed like the wise move—but it set off a chain reaction that nearly killed the park's ecosystem.
When wolves were reintroduced to the park in 1995, a surprising thing occurred. The park's natural system came back into balance, which affected all the vegetation and animals throughout the park.
It turned out that the wolves were necessary for the park's ecosystem to work correctly.
RELATED LINKS
4 Must-Haves for Your Author Platform
How Social Media Fits into Your Publicity Strategy
5 FREE Tools to Create Social Media Graphics
Facebook Is A Necessary Part of Your Author Platform
Your author platform is like an ecosystem, too. There are a lot of moving parts, each of which relies on the others to work properly.
So, even though there's a lot to be scared about with Facebook—just like it's wise to be scared of the wolf—it's clear in 2018 that your author platform strategy should include Facebook. If you want to build an audience, Facebook needs to be part of your plans.
Here are five reasons that Facebook is still important to authors in 2018:
#1 Everyone is there.
Well, OK, not "everyone" is on Facebook. But 79-percent of Americans—and more than 20-percent of the world's population—is on the platform. And more than 400 new users sign up every minute.
With more than 2 billion monthly active users, there are more people using Facebook today than live in any country in the world. (At last count, China has a population of 1.379 billion, India's population is 1.324 billion, and the United States of America has a population of a mere 323.1 million.)
"No one can compete or even get close to Facebook's user base. This in and of itself is one reason why every author needs to be on Facebook."
-
Frances Caballo
(
8 Ways to Grow Your Facebook Author Page
)
#2 Everyone is actively using it.
It's one thing to have a lot of registrations, but the real power for Facebook is in how many of those people are paying attention. Check out these statistics...
Facebook Messenger has over 1.2 billion monthly active users.
Users access Facebook an average of eight times per day.
Each day, 35 million people update their statuses on Facebook.
Facebook gets over 8 billion average daily video views.
Facebook users like more than 4 million posts every minute.
350 Million photos are uploaded every day.
55 million status updates are made every day.
"Engagement on social media seriously helped me take my social media presence to another level. Is it a lot of work? Absolutely! But, if you want to be memorable, helpful and build a brand that stands out from everyone else, you need to engage with your peeps! It's as simple as that."
-
Kim George
(
How to Use Social Media Networks to Grow Your Online Presence
)
#3 Facebook encourages engagement by hosting all types of media content.
One reason that Facebook outpaces all the other platforms is that you can share and organize pretty much any type of media content. This is a great help to hold the attention of fans and friends, because it's easy to mix it up. Some options available include...
Text articles
Link posts
Polls
Graphics (images with text on them)
Photo albums
Video (uploaded)
Live video
Video playlists
Live audio
Q&As
Events
"Over half the content shared online is shared via Facebook. In fact, the main source of traffic for this blog comes from people sharing my content on Facebook. Having a page allows you to grow a much larger audience than your own personal network would permit, and as your readers share your content, your content will go more viral via Facebook."
-
Jeff Goins
(
Why You Need a Facebook Page
)
#4 Facebook is launching new products and features all the time
One regular complaint about Facebook is that it keeps changing—but this environment of always-changing is part of the platform's strength. They recognize that to leave it the same would turn Facebook into another MySpace or Friendster. (Remember them?)
Between Facebook and their other platform, Instagram, the two regularly roll out new storytelling features to keep users sharing their day with the world. These new features range from how you can post photos and videos, to how you can edit and design them.
In fact, Facebook predicts that video will become the predominant content on social platforms. They've gone all-in on video, adding functionality for video curation, live video streaming, original content, and even virtual reality. Facebook is poised to take on YouTube—and soon, even the television networks.
Add to that all the apps and services they've launched or added in just past year, and you see that Facebook is doing everything it can to stay top of mind with users.
"After years of resisting, I have now come around to the fact that Facebook is the most powerful advertising platform around because of its laser-targeting abilities and the fact that most readers are more likely to be on Facebook than Twitter."
-
Joanna Penn
(
5 Ways That Authors Can Use Facebook Advertising
)
#5 Facebook isn't going anywhere.
Even with Facebook's failures in 2017—ranging from privacy concerns, to becoming more or less weaponized for political purposes—the fact remains that Facebook is too big to simply disappear in 2018. We're not saying it will never become irrelevant or go away, but it's not likely to happen in the next 12 months.
First, Facebook is big business. With a stock-market valuation of $245 billion, Facebook is now worth more than Walmart.
Second, Facebook is a global business. Available in 101 languages, Facebook's international user base is steadily growing. More than 83-percent of daily active users are outside North America.
Word To The Wise
By now, I hope you have a sense of why Facebook can be such a valuable part of an author's platform. However, you should also keep these points in mind:
Facebook doesn't replace your author website. You still need an author website to serve as the central hub of all your online activity. Whatever online profiles you have—Facebook, Goodreads, Amazon Author Central, Pinterest, Twitter, Instagram, whatever—should all point toward your main author website.
You need a strategy. Don't throw a lot of time, energy, and money into Facebook without a solid plan. That's no way to get results.
You're playing in someone else's yard. Our goal is to get the most out of Facebook while it works for us, because we know that at some point it may stop working for us. Facebook is a business, and will always do what it thinks is best for that business. And that won't always be helpful to you as an author promoting your brand and your work.
It takes time to build a community. Facebook is a great platform for engaging with people and raising awareness of your brand and your books. But don't make the mistake of thinking this is going to all happen by Thursday. You're wading into a very crowded, very noisy, public square. Each time you post or act on Facebook, you're building a relationship with your audience—and if you respect that relationship over time, it will continue to grow.
"Many writers have to be in this for the long game. If friends or fans feel like you're only there to market to them, rather than be a community member, they'll ignore you."
-
Jane Friedman
(
Facebook for Authors: Getting Started Guide
)
What Are You Going To Do Now?
In the coming weeks and months, my plan is to take a deep dive into all that Facebook can do for authors who want to grow their audience. We'll start with the very basics, and work our way toward the more advanced practices and features in the coming months.
By the time we're done with this series, you'll know how to amp up your Facebook engagement, leverage Facebook tools for creating, scheduling, and automating amazing content, grow your community, measure the results to optimize your Facebook strategy, and so much more!
WHAT ARE YOUR MOST PRESSING QUESTIONS ABOUT USING FACEBOOK FOR YOUR AUTHOR PLATFORM? CLICK BELOW TO SHARE IT ON OUR FACEBOOK PAGE!
NEXT: Facebook profiles, pages, and groups: What's the difference?
SOURCES:
Facebook newsroom
75 Super-Useful Facebook Statistics for 2018 (WordStream)
What happens online in 60 seconds? (Smart Insights)
Social Media Update 2016 (Pew Research Center)
Percentage of global population using Facebook as of June 2017, by region (statista)
28+ Powerful Facebook Stats Your Brand Can't Ignore in 2017 (Sprout Social)
Facebook Statistics (kissmetrics)
Facebook Hits 8 Billion Daily Video Views, Doubling From 4 Billion In April (TechCrunch)
How Much Data Is Generated Every Minute On Social Media? (wersm)
Facebook by the Numbers: Stats, Demographics & Fun Facts (Omnicore)
Facebook now worth more than Walmart (CNN Money)