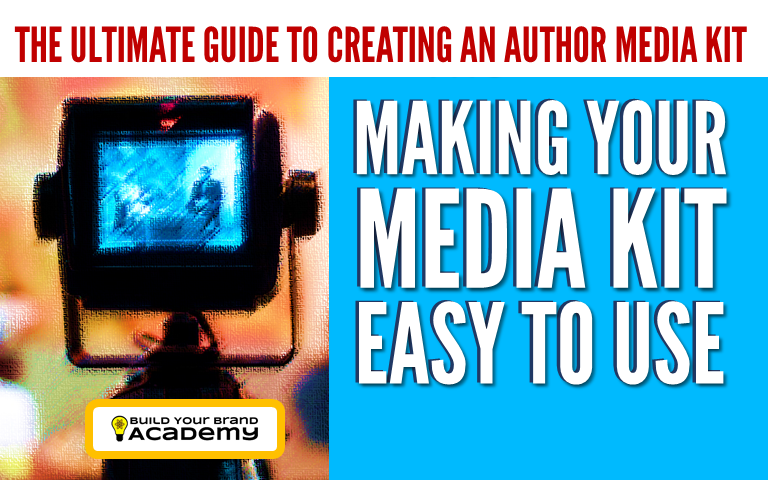 Three ways you can present your media materials on your author website to make it easy for me to promote you.
This is Part 10 of a 10-part series on creating your author media kit:
Previously:
Part 1 - The Ultimate Guide to Creating an Author Media Kit
Part 2 - Writing Your Author Bios
Part 3 - Creating Your Suggested Interview Questions and Author Q&As
Part 4 - Writing Your Feature Article
Part 5 - Sharing Your Endorsements, Reviews, and Testimonials
Part 6 - Packaging Your Excerpt
Part 7 - Taking Your Author Photo
Part 8 - Presenting Your Book Cover
Part 9 - Creating Your One-Sheet
Part 10 – [YOU ARE HERE] Making Your Media Kit Easy to Use
FREE AUTHOR PUBLICITY BLUEPRINT!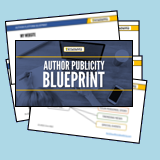 Sign up for my newsletter and get a FREE download of the "Author Publicity Blueprint." This PDF includes a media kit checklist, a book promotion planner, mindmaps, prompts, and even idea starters for your blog.

Click HERE to get it!
Over this series, we've looked at how you can create all the necessary pieces of your author media kit. In this final article, I'm going to show you how to package and share your media kit so you get the most value out of it.
Avoid attaching your media kit to emails. This can get your email trapped in a junk mail folder and nobody will ever know you reach out.
As you correspond with important people, send them a link to find your media materials on your website.
This is how it should work: Somebody like me hears about you, and comes to your website looking for information. I'm on deadline, so I need to find the right kind of information about you quickly and easily. I should be able to grab it and go.
Your author media kit needs to be easy to find, easy to download, and easy to use. Here are three basic ways you can present your media materials...
#1 Share The Media Materials Right There On The Page
You can have a dedicated page for these materials. There's a navigation button on your homepage and then you host the content right on the page.
If you go to Build Your Brand Academy, which is my website, there's a media page. The text is on the page for you to copy and paste as you need. This page includes:
Three (3) author bios
A list of interview topics
Suggested interview questions
A selected list of my appearances in the media
#2 Share Your Media Kit as Separate Downloadable Files
You may want to share the pieces of your author media kit as separate, downloadable files. Members of the media can click to download your feature article or your author bios.
For downloadable files...
Save all the documents as PDFs. Other file types may not translate correctly for me, because you and I probably have different operating systems. PDF is a universal format so that what it looks like to you, very likely it looks exactly the same to me.
Your images should be shared in a standard image format like a JPEG or PNG.
Upload these PDFs and image files. You can upload them to your website, or you can host these files in a cloud storage service like Google Drive or Dropbox.
On your website, offer links to these materials. The images should appear as thumbnails—I see your author photo and your book cover, and it says "click here for a high-resolution file."
#3 You Can Share Your Author Media Kit as a Single Folder
To offer a downloadable all-in-one option...
Put all the PDFs and image files in a folder. Give the folder a title that makes sense: Maybe your name and then "media kit." Use underscores in your folder title, because you don't want any spaces in the name of the folder.
Compress the folder into a zip file. It would look like this zip file in our picture.
Host the zip file on your website or on a service like Google Drive or Dropbox. (See below.)
In this case, what would happen is that someone like me comes to your website. There's a link that says "download press kit." When I click the link, I'm downloading this zip file. After it's download to my computer, I open the file and all the materials are inside this folder.
"Where do I host these files?"
You should be able to host all these files on your author website. If you can't—or don't want to—you can host these files with a cloud storage service like Google Drive or Dropbox. When a member of the media clicks the link, it downloads the file from Google Drive or from Dropbox. You share the link on your site, but you don't have to host the files on your site if you don't want to.
What's The Best Media Kit Format For You?
If you like, you can do all these options for your author media kit...
You can put the materials on the page.
You can offer links to download the individual pieces.
You can say "click here if you want to download the whole kit."
I've also seen examples where some authors will present all these pieces as a single PDF download. It can be an 8- or 10-page PDF with all these different pieces in a single document.
"Do I want a printed version of my media kit?"
It's rarely necessary to need a print version of your media kit. In most cases, it would be a waste of money and resources (and trees) to go to printer and order a big stack of media kits.
But what if you're going to a conference or a meeting? First, when your media kit is online, you can send anyone to that page. You can also download your materials to a flash drive to carry them with you, and even pass off to someone else.
If you want to print out a few copies of your kit to carry with you, here are some recommendations...
Print these pieces out on nice paper.
Put them in a solid colored folder.
Print up a nice label.
A quick note about labeling your folder. In the media, we get a lot of content from a lot of people. If the folder isn't labeled, it's easy to lose track of it. You want the folder to say who it's from. You want it to look nice, so don't scribble on it with the marker. Put some kind of label on it.
Key Points
Have these materials before the media and influencers need them. When somebody has questions, these documents should already be available. That way, you don't have to scramble to come up with things.
You still have to raise your hand. The media kit is a tool for publicity—this is not the publicity itself. Putting this media kit on your website is not the thing that will make people know that you exist. You still have to reach out.
Don't broadcast your media kit. Don't just send out a mass email and attach your media kit. Don't send this information to people who have no context. The media kit is to back up your pitch, or to give additional information to somebody who is already looking for that information. Don't send the media kit to somebody cold.
Make it easy for them to find. Your website should have a navigation button, so visitors can click on it and go straight to your media page. Don't put these media materials on a password-protected page. These materials are to help me make you more famous. Make that job easier for me.
When you're out there making a name for yourself, it's important to have a media kit on your website. As other important people learn about you, they need these materials for context, background info, prep, or research. The information needs to be convenient, in one place, and easy to find for everyone who needs it.
When you make it easy for them to promote your book, the more likely you'll get the results that you want.
GOT QUESTIONS ABOUT HOW TO PRESENT YOUR MEDIA KIT? WANT TO SHARE YOUR MEDIA PAGE? DISCUSS IT ON OUR PAGE ON FACEBOOK...