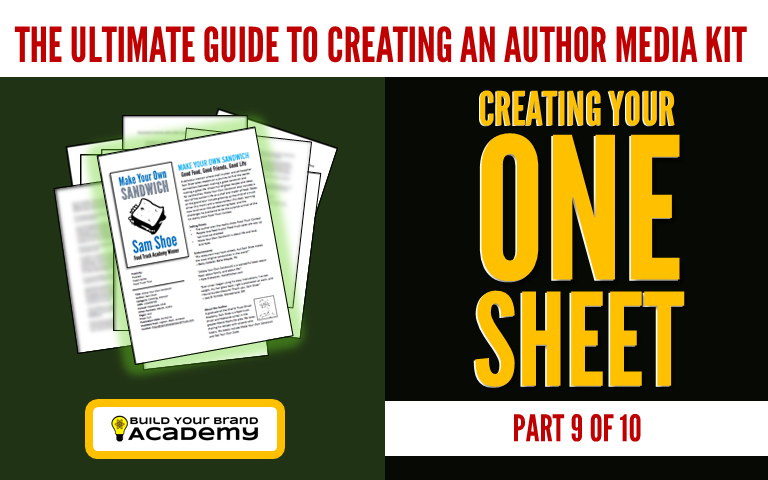 Your one-sheet can be used as a one-page media kit.
This is Part 9 of a 10-part series on creating your author media kit:
Previously:
Part 1 - The Ultimate Guide to Creating an Author Media Kit
Part 2 - Writing Your Author Bios
Part 3 - Creating Your Suggested Interview Questions and Author Q&As
Part 4 - Writing Your Feature Article
Part 5 - Sharing Your Endorsements, Reviews, and Testimonials
Part 6 - Packaging Your Excerpt
Part 7 - Taking Your Author Photo
Part 8 - Presenting Your Book Cover
Part 9 – [YOU ARE HERE] Creating Your One-Sheet
FREE AUTHOR PUBLICITY BLUEPRINT!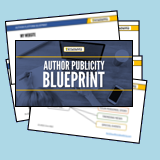 Sign up for my newsletter and get a FREE download of the "Author Publicity Blueprint." This PDF includes a media kit checklist, a book promotion planner, mindmaps, prompts, and even idea starters for your blog.

Click HERE to get it!
Your media materials should include an all-in-one document called a "one-sheet." Sometimes also referred to as a "sell sheet" or "pitch sheet," this is essentially a one-page media kit that can be used as a calling card or a promotional flyer.
YOU NEED A ONE-SHEET FOR NEARLY ANY PROFESSIONAL CONVERSATION AS AN AUTHOR
With all the details about your book in one place, your one-sheet is an important tool for meetings and conferences. Sure, it will help you with the media—but it's also a great for talking with booksellers, librarians, wholesalers, event planners, literary agents, publishers, and even customers.
The one-sheet combines many of the elements that spotlighted in previous articles in this series. Since most people will skim this document, it should be designed for a user-friendly, quick read. Make it easy for folks to find what they consider important.
An ideal one-sheet will include...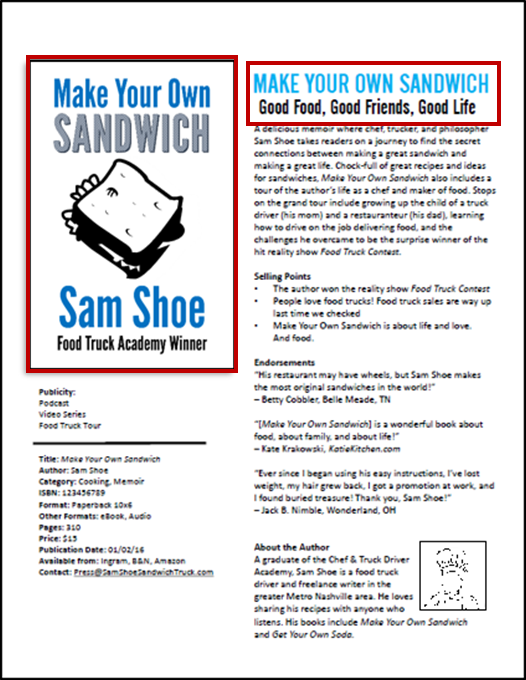 TITLE AND COVER
The one-sheet can be used to promote yourself as an expert and speaker before you have the book. But if your book is ready to be promoted, the document should include the title and an image of the cover in the upper left-hand corner. Bold the title and include the subtitle or tag line.
AUTHOR NAME
Include your author name. (If you use a pen name, put that.)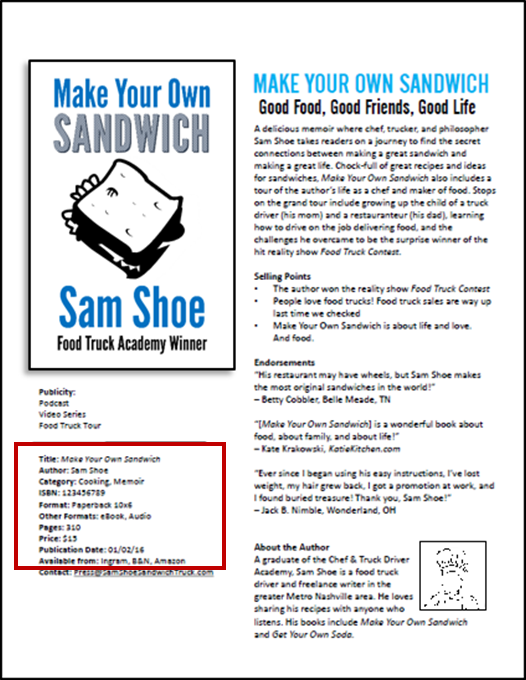 PUBLISHING DETAILS
There are a number of fine print details you want to include in a small block on the page...
Formats: List all the ways the book is available. (i.e., trade paper, mass market, hardcover, eBook, audiobook, etc.)
Suggested retail price: Tell us how much the book costs. Since the retail price will vary worldwide, you might add the U.S. price and a note that "international prices vary."
Title: List the title of the book again for emphasis.
Author: List your name again.
Category/Genre: List the category or subject of your book (e.g., science fiction, self-help, whatever). Use an official category where it might be shelved at a bookstore or library.
ISBN number: If your book has been assigned an ISBN number, include it.
Publication Date: List the date your book was published or will be available for sale.
Page count or word count: Depending on your primary format, list the number of pages of your book, or how many words. (For the word count, round up or down.)
Trim size: If it's a physical book, list the book's dimensions (its width and the height).
Available from: List how people can purchase your book. For booksellers and libraries, you need to include where someone can order the book from a wholesaler.

DESCRIPTION
In a short paragraph, share what the book is about. Write it like back cover copy. (If you need some ideas, read the back cover copy of books that you admire.)

ENDORSEMENTS AND REVIEWS
If you have them, include a couple of quotes from reviews, testimonials, or endorsements. These add credibility to your book.

SELLING POINTS
List a few bullet points about why this book is interesting, timely, or particularly relevant.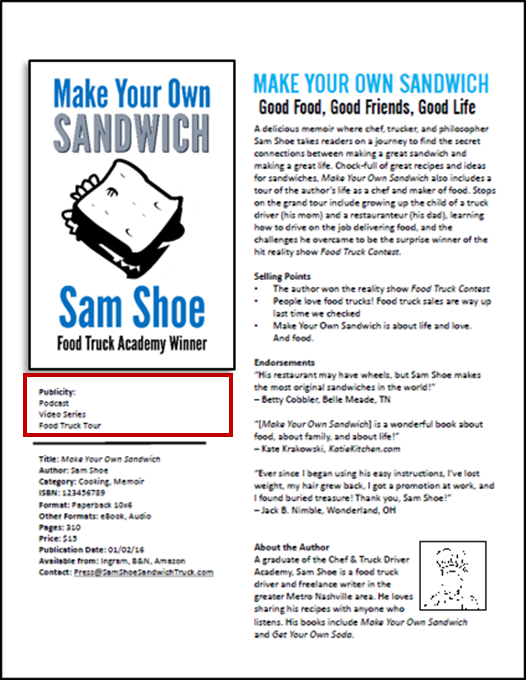 MARKETING PLANS
Share any promotions you plan to raise awareness for the book. This might include author events, blog tours, public appearances, media appearances, social media campaigns, video marketing, online contests, or any other plans for publicity or advertising.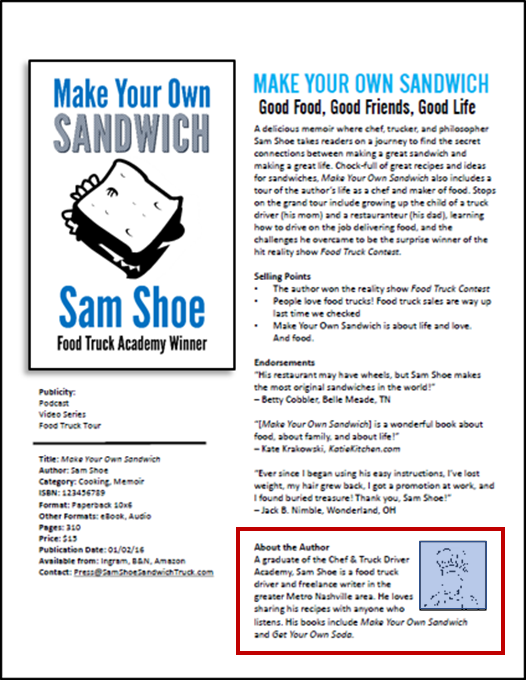 ABOUT THE AUTHOR
Drop in one of your author bios here. If you have room in the design, it's also nice to drop in your official author photo. Your bio should focus on your qualifications for writing your story or nonfiction topic.
CONTACT INFORMATION
As with all your media materials, tell us how to get in touch. Include as many methods as appropriate (and that you actually want to hear from). This list might include phone, email, video chat, and your social media profiles.
HOW TO DESIGN IT
I created this demo in PowerPoint. You can use a similar kind of program, or design it in a free online tool like Canva. (Click here to see Canva's special template for this.) Your Word program might work as well. What matters is the copy, that you can place the images where you want, and you can format the page to look nice. Whatever works.
Save it as a PDF.
KEY POINTS
This one-sheet can stand in for nearly any other piece of your kit. The compact format is great when you want to print out copies for a meeting or a conference. If you're meeting with publishing professionals, retailers, and the like, this print out will have most of the information they need.
Focus on why you're special. Don't be vague or too general about the book or your place in this category. Help us see why you and the book are special. The information on this sheet should make me want to know more about the book or about you—and, ideally, make me want to introduce you to my audience.
Each one-sheet should focus on one book. But it can be about any title you want. If you have more than one book, there's no reason you can't make a one-sheet for each of them. The format of the sheet is pretty simple to plug-and-play.
If you're promoting a series… If you have a fiction series and want people to start at the beginning, your one-sheet might focus on that first book as the entry point. If you have a nonfiction series where a person can read the volumes in any order, your one-sheet should focus on the latest title. In either case, the one-sheet can include information about the general series—but the fine print is still about one individual book.
Don't be sloppy. This page represents you, so make a good impression. Write the text in professional language, and format it with a readable font and point size. Line up your columns. Only use crisp images of yourself and your book cover, not ones that are fuzzy or pixelated.
Format it so that it's easy to skim. Your copy should be concise, with enough white space between blocks for a clean appearance. It should be easy to find specific information.
GOT QUESTIONS ABOUT YOUR ONE-SHEET? WANT TO SHARE YOUR OWN? DISCUSS IT ON OUR PAGE ON FACEBOOK...