Promoting a book? It's a no-brainer that you need to show 'em your book cover. But there's a right way to do it--and a wrong way...
This is Part 8 of a 10-part series on creating your author media kit:
Previously:
Part 1 - The Ultimate Guide to Creating an Author Media Kit
Part 2 - Writing Your Author Bios
Part 3 - Creating Your Suggested Interview Questions and Author Q&As
Part 4 - Writing Your Feature Article
Part 5 - Sharing Your Endorsements, Reviews, and Testimonials
Part 6 - Packaging Your Excerpt
Part 7 - Taking Your Author Photo
Part 8 - [YOU ARE HERE] Presenting Your Book Cover
FREE AUTHOR PUBLICITY BLUEPRINT!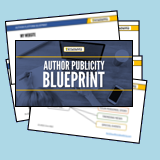 Sign up for my newsletter and get a FREE download of the "Author Publicity Blueprint." This PDF includes a media kit checklist, a book promotion planner, mindmaps, prompts, and even idea starters for your blog.

Click HERE to get it!
Your media materials should include a clear and simple copy of your book cover. If the media wants your book cover, they want a standard book cover.
IT'S OK TO BE FANCY—JUST NOT IN YOUR MEDIA KIT
Maybe you'd like to post a stylized version of the cover on your website. That's fine, as long as you also offer a regular version of the book cover that the media can use.
The version of the book cover in your marketing materials should follow these guidelines…
Your primary book cover image needs to be available in a straight-on format. No 3-D effects. No curves. Don't tilt it. The media wants a flat image of the plain book cover.
Your book cover image needs to be pure and unfiltered. Don't add any effects. No re-coloring. No halo effects. No image filters. The image should look like the actual book cover.
Your book cover image needs to be available in both a large, high-resolution (hi-res) file and a small, low-resolution (lo-res) file. Depending on the needs of that media outlet, they may choose one or the other. If they are print media or high-definition digital media, they'll want a hi-res file. If you only offer a smaller file and they have to blow up the size, that will likely pixelate the image. (That's bad.) Think of it as a thumbnail image, and then you can click on that thumbnail image for the larger version.
KEY POINTS
Your media materials need to include your most recent book. The media shouldn't have to hunt around or ask for info about or the cover to your latest book.
Your media materials need the most recent version of that book cover. If they grab it off your site and use it and—oops! it's the wrong cover—they won't go back and fix it. They've already moved on to the next thing.
NEXT: How to Create Your One-Sheet
QUESTIONS OR COMMENTS? DISCUSS IT ON OUR PAGE ON FACEBOOK...