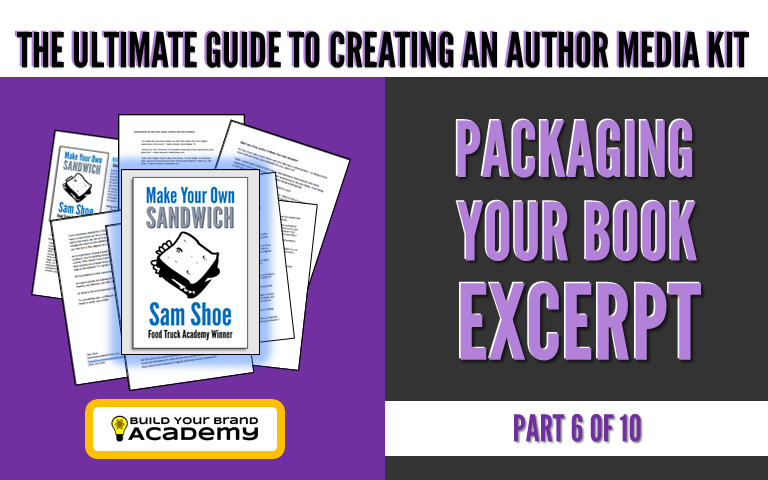 Providing a sample of your book exhibits your style and can generate enthusiasm about your work among influencers in the media, publishing, and even prospective readers.
This is Part 6 of a 10-part series on creating your author media kit:
Previously:
FREE AUTHOR PUBLICITY BLUEPRINT!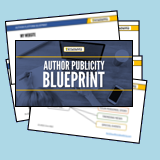 Sign up for my newsletter and get a FREE download of the "Author Publicity Blueprint." This PDF includes a media kit checklist, a book promotion planner, mindmaps, prompts, and even idea starters for your blog.

Click HERE to get it!
If you have a book that's part of your media pitch, your media materials may also include a sample or excerpt. This isn't required—especially if you're actually working on your author platform ahead of the publication of the book.
If you can include an excerpt, this gives somebody an opportunity to get a taste of what your writing is like. All the other pieces in your media kit are you talking about what you do. With the except, they can actually experience what you write.
HOW THE MEDIA MIGHT USE YOUR EXCERPT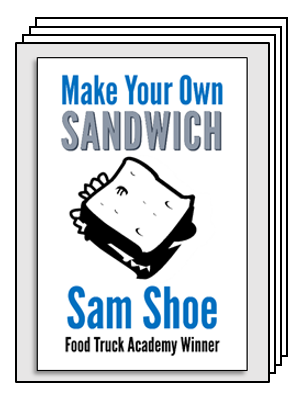 When the media is researching you, this excerpt may be used as part of their research. This because it helps them have ideas about how to interview you or ideas about how to write about you.
In some cases, the media may decide to just run this excerpt on their website or in their publication. It might be the extent of their coverage, or it miugt be used to complement their coverage. In a publication, the excerpt may run as a sidebar to the main article. Or if you're interviewed in another format, such as a podcast, the show may post the excerpt on their website and point listeners to it.
HOW TO PACKAGE YOUR EXCERPT
You can create your excerpt document in Word or a similar program.
The first page should include an image of your book cover, the title of the book, and your name.
You may include a table of contents if it explains more about the contents of your book. (If it's a novel or your chapter titles are just numbers, don't worry about it.
Include a sample from the book that makes sense out of context. It should be representative of the experience of the book.
You may also include quotes from reviews about the book.
Include your contact information so that an interviewer can follow up.
Include appropriate links to pages where they can learn more about the book.
Save your document as a PDF for easy download.
KEY POINTS
Remember, this is about making it convenient for that influencer.
Make it easy to read. Format your document with a normal, basic font at a normal, basic point size that's easy to read. (Something like Calibri 12 point.) Don't annoy them by making it some weird font.
Make it as brief an excerpt as makes sense. Don't call it an "excerpt" and then jam in thre whole book at a super tiny point size. You can't trick them into reading your whole book. You can make the whole book available—but that's bot your "excerpt."
Don't include any secrets or private information. As with all the pieces of your media kit, assume that once you post it online, anyone can find it.
NEXT: How to Take Your Own Author Photo
QUESTIONS OR COMMENTS? DISCUSS IT ON OUR PAGE ON FACEBOOK...