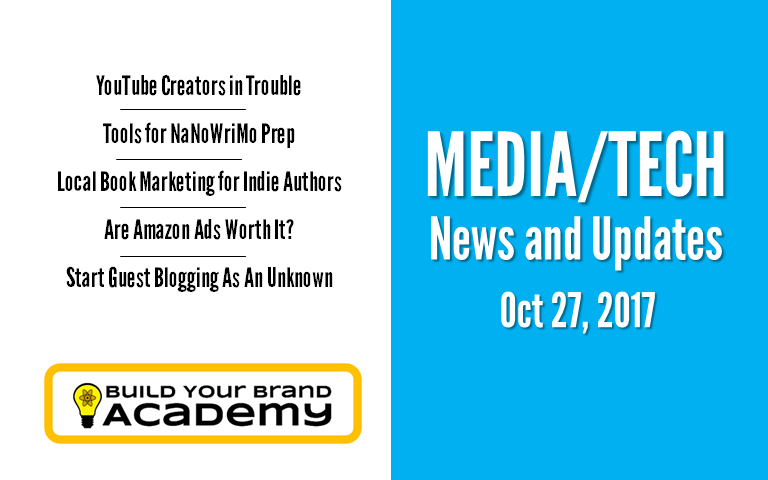 Where storytelling and tools collide: A roundup of news and updates from media at the intersection of content and technology. Includes the latest in publishing, streaming, podcasting, and more...
YouTube Creators in Trouble (Glove and Boots)
A discussion of how changes at YouTube and Facebook are affecting video content creators, the challenges of ever-changing algorhythms, and the problem of declining audiences. With puppets.
---
NaNoWriMo stands for National Novel Writing Month: a frenzy of writing with the goal of producing a 50,000-word novel during the thirty days of November. If you're going to embark on NaNoWriMo 2017, you can greatly improve your odds of success by using these "NaNoPlanno" tools now to prepare yourself, your space, and your loved ones for November... [Read the article here!]
---
List posts can be a fantastic way to share information that's easy to read and provide helpful content on your blog. Yes, this is one of those "meta" posts, but it's an important topic for bloggers. Lists are everywhere for an excellent reason. Actually, for eleven good reasons... [Read the article here!]
---
Book marketing to national media has becomes increasingly competitive. We've seen a dramatic increase in how effectively indie authors have been able to leverage their communities and local media. Don't get caught up in Amazon ranking and social media schedules. As an indie author, part of your focus should be local... [Read the article here!]
---
Make way for more talking heads. Instagram, competing hot on the heels of other live video broadcasting apps, is enhancing its video streaming service with a new feature that it hopes will bring out more videos both from those of its 800 million users who might be too shy to use the feature on their own, and from those who can't resist an opportunity to be more social. Today, Instagram announced that it would let users who run live video streams add guests into their videos... [Read the whole article!]
---
The call and response form can be found in jazz and classical and folk; in churches and synagogues and secular gatherings; and everywhere from West Africa to Cuba to England. It should not be found in your media interviews. Good spokespersons don't merely produce an echo... [Read the article here!]
---
According to a 2016 survey of 2,000 consumers, 55% of people actually skip Google altogether and start their online shopping searches directly on Amazon. When you're thinking about your online advertising strategy, you want to meet your consumers where they are... [Read the article here!]
---
How many times have you pondered over which images to use in a paragraph, blog post, web page, etc.? Research shows that images attract more people to the content and help people retain the content they consume longer. I present 12 types of visuals you can use in a blog post. You do not have to use all of them. See what inspires you given your content marketing strategy, audience, and formats... [Read the article here!]
---
If you're getting less than 250 website visitors a day, your priority should be writing for other people's blogs, not your own. When you have low visitor numbers, writing for your own blog is like shouting in a vacuum – no one can hear you. The benefits of guest posting are many – you tap into other people's traffic, you cultivate relationships with other bloggers in your sphere, and you build a good reputation... [Read the article here!]
---
You can ask all your friends and relatives to post book reviews on Amazon, but in a world increasingly skeptical of "fake news" and reviews, readers may regard them with suspicion. On the other hand, a professional book review from a noted commands credibility from the outset and can be used in ways consumer reviews cannot. Here are eight ways to make the most of a professional book review... [Read the article here!]
---
When you're just starting an online course business, it can be easy to feel like there is just too much to do. Knowing which task to tackle first and what to do next is just as important as knowing how to do each task. We've come up with a simple framework any new course creator can follow. This guide will show you exactly what to do, in what order, and where to find the resources you need to complete each step like a boss... [Read the article here!]
---
Google is reportedly gearing up to share revenue with news publishers, the Financial Times reports. The plan is to combine Google's treasure trove of personal data with machine learning algorithms to help news publications grow and maintain its subscriber base... [Read the article here!]
---
When you tell the media how amazing you are, you're just some random stranger bragging about yourself. But if you have a review, endorsement, or testimonial, it gives you credibility when somebody else says how great you are. If you're able to share quotes from other people about the quality of your work—quotes about your writing, your teaching, your storytelling—it helps the media to trust you. They may also use one of these quotes in the article or in the introduction to help their audience trust you, too... [Read the article here!]
---
Related links:
Podcast Your Fiction: Media/Tech News and Updates (Oct 20)
Your Pub Date is Not Important: Media/Tech News and Updates (Oct 13)
B&N is no longer in the tech business: Media/Tech News and Updates (Sept 29)