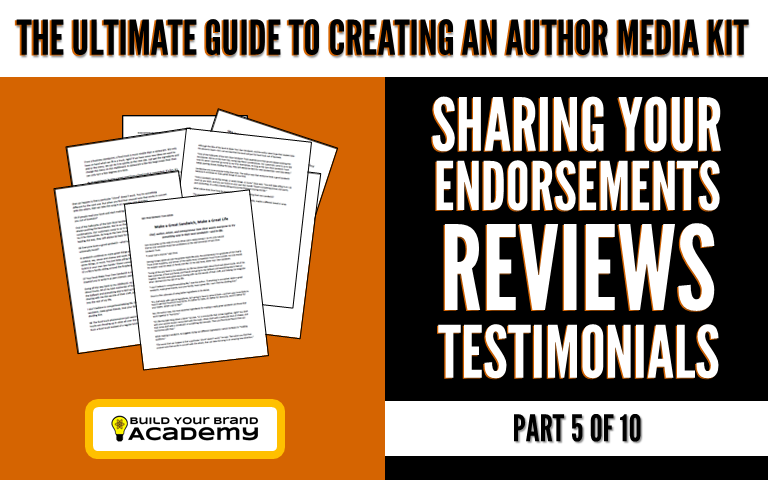 Quotes from others about your work carry more credibility than what you say about yourself.
This is Part 5 of a 10-part series on creating your author media kit:
Previously:
Part 1 - The Ultimate Guide to Creating an Author Media Kit
Part 2 - Author Bios
Part 3 - Suggested Interview Questions and Author Q&As
Part 4 - Your Feature Article
Part 5 - [YOU ARE HERE] Your Endorsements, Reviews, and Testimonials
FREE AUTHOR PUBLICITY BLUEPRINT!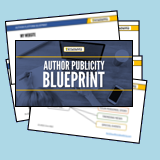 Sign up for my newsletter and get a FREE download of the "Author Publicity Blueprint." This PDF includes a media kit checklist, a book promotion planner, mindmaps, prompts, and even idea starters for your blog.

Click HERE to get it!
Your media material should include a section that highlights endorsements or reviews or testimonials. Here's the thing: When you tell the media how amazing you are, you're just some random stranger bragging about yourself.
If you see somebody over at a table and you interrupt them and say, "Hey, I'm really great"—I think you know that's not going to go well. You're bothering them. They're like, "Why are you telling me you're so great? Why should I believe you? I don't know you."
But if you have a review, endorsement, or testimonial, it gives you credibility when somebody else says how great you are. If you're able to share quotes from other people about the quality of your work—quotes about your writing, your teaching, your storytelling—it helps the media to trust you. They may also use one of these quotes in the article or in the introduction to help their audience trust you, too.
HOW TO PRESENT YOUR ENDORSEMENTS IN YOUR MEDIA KIT
Do you have quotes that you can put in a document like this? Using a simple word document, put in the quotes, put in your contact information, and save it as a PDF. These are endorsements that I have received...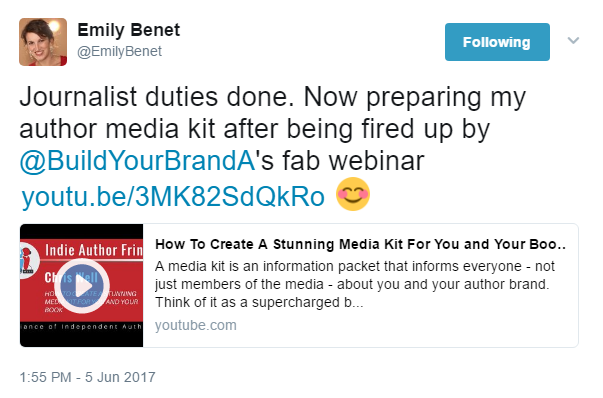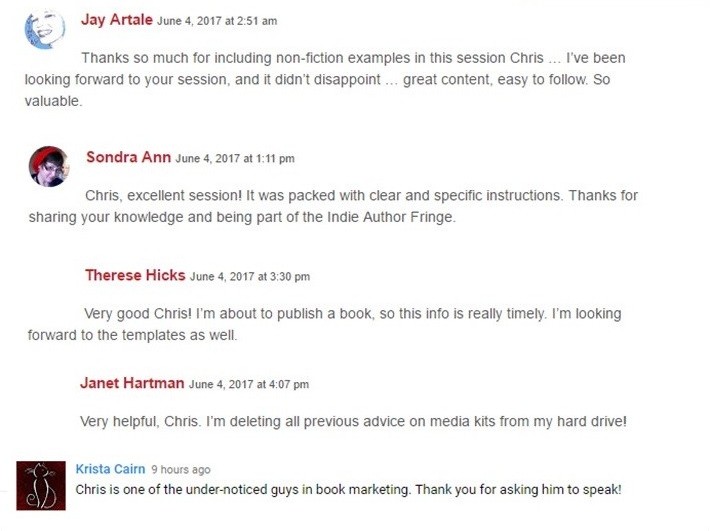 KEY POINTS
Include relevant details about who this endorser is. We want a name, and we also want relevant professional or demographic information—whatever it is about this person that that helps us understand why we should listen. Also tell us where this person is from, whether it's a website or a city and state. It helps us believe it's a real person.
These quotes should address the benefits you've brought to this person's life. How did your book, teaching, or service help this person? They should be more specific than, "I loved it."
These quotes should be real people saying real things that they really meant about your product. If you fudge on this, you will be found out. Don't attribute an endorsement to someone who didn't say it. If the media sees that this person said something about you, they may contact that person to ask about his or her experience. They're going to ask, "What are you talking about? I've never heard of this person"—or even worse, "What are you talking about? I hated that book."
IF YOU DON'T YET HAVE THESE KINDS OF QUOTES...
If you've gotten this so far and don't actually have any endorsements or reviews yet, don't freak out! You can start gathering this kind of information at any time...
Send review copies of your book out to people to get reviews.
Give potential endorsers free access to your online school.
Offer your coaching or training free in exchange for getting a testimonial.