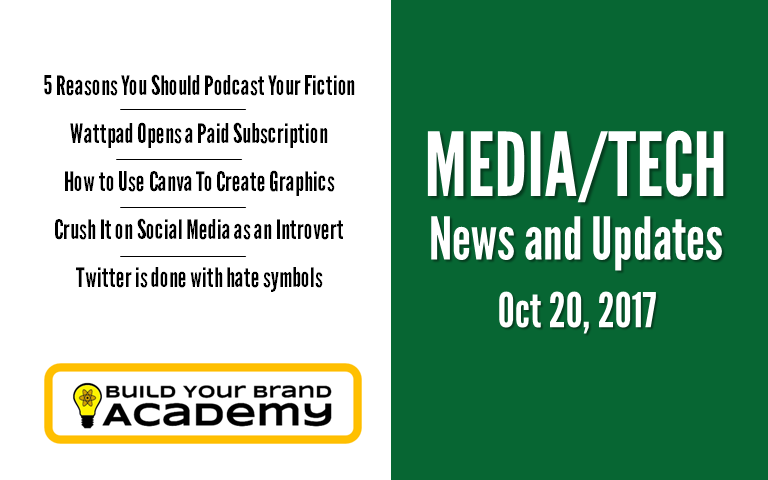 Where storytelling and tools collide: A roundup of news and updates from media at the intersection of content and technology. Includes the latest in publishing, streaming, podcasting, and more...
Storytelling has gone hand in hand with the audio format since our ancestors told each other stories around the campfire. Nowadays, we have super-professional podcasts like Welcome to Nightvale, as well as audio-dramas and radio plays. In today's article, Matthew McLean from ThePodcastHost talks about why you should consider podcasting your fiction... [Read the article here!]
---
Toronto-based Wattpad has announced its first subscription plan. Wattpad Premium, as it's called, is being launched initially in the States and will give both US and Canadian users the option of no-ad use of the platform. Fees are $5.99 per month or $59.99 per year and should give both readers and writers more control over look and feel when on the system... [Read the article here!]
---
Wattpad, the company behind a suite of apps for reading and sharing stories – including a fairly popular "chat fiction" app Tap, a rival to Hooked – is today adding its first-ever subscription plan for its flagship application. The option, called Wattpad Premium, will remove the ads from Wattpad's otherwise free app... [Read the whole article here!]
---
With the best will in the world, even if you started a blog today, it would take months if not years for you to grow an audience of readers. Given that research from BuzzSumo now shows it's long-form content (3000+ word articles) that are more likely to get shared - that's a big time commitment. Podcasting could be a solution. Not only is it a lot easier to record yourself in conversation, or speaking from notes -- the average podcast listener is exactly who you want to be engaging... [Read the article here!]
---
Canva is an online platform that you can use to create super gorgeous visual designs + documents for your brand. There are templates for nearly every type of design you can think of like: presentations, social media profile covers, blog graphics, flyers, postcards, resumes, banners, eBook covers and CD covers. When I launched this brand earlier this year, I made a promise to myself to get really serious about stepping up my visual design game... [Read the article here!]
---
Selfies, bad grammar, cryptic status updates ("some people don't deserve my time…") and verbal diarrhea. Ugh. What is the obsession with social media? How can anyone enjoy this drivel? And who has time for it? With everyone competing for attention no one is going to pay any attention to you, right? Why would you put yourself 'out there' only to be ignored, or worse, ridiculed? Using social media for book marketing can be an intimidating prospect for any author, but especially a self-published introvert. Fortunately, you can learn how to make it work for you... [Read the article here!]
---
Twitter CEO Jack Dorsey took to…Twitter to promise a "more aggressive" stance in its rules and how it enforces them. The tweet storm was based in a response to the #WomenBoycottTwitter protest, as well as work that Dorsey says Twitter has been working 'intensely' on over the past few months... [Read the article here!]
---
Twitter, a platform infested with trolls, hate and abuse, can be one of the worst places on the internet. As a followup to Twitter CEO Jack Dorsey's tweetstorm last week, in which he promised to crack down on hate and abuse by implementing more aggressive rules, Twitter is gearing up to roll out some updates in the coming weeks... [Read the article here!]
---
Brands have used visual forms of social communications like GIFs and emojis for a while. But in the case of the Wendy's campaign that launched this week, the fast food chain is trying to tap into Tenor's unique data on how and when people use GIFs. Tenor is the number 1 GIF sharing app in the Apple app store, and its tools are integrated on Facebook, WhatsApp, Apple's iMessage, Twitter and lots of other social communication outlets. Earlier this year, it rolled out an insights tool designed to help marketers view data on how people are engaging with GIFs in real time, and help them create and target ads using that data... [Read the article here!]
---
A Mark Twain tale is reborn (CBS Sunday Morning)
Thanks to the work of literary scholars and a husband-and-wife team of children's book illustrators, fragments of an unfinished Samuel Clemens story have been transformed into a new Mark Twain book, "The Purloining of Prince Oleomargarine." Martha Teichner reports on the latest work by the humorist, published just 107 years after his death.
---
The way people consume media continues to change at a faster clip than ever. In just a few years, advances in technology and communication have upended traditional media. The media space at large--including publishing, music, and entertainment--will continue to evolve rapidly as business models shift and older players are scrambling to find their place in the new world. Yet, this has almost all happened before. Lots of times... [Read the whole article here!]
---
Related links:
Your Pub Date is Not Important: Media/Tech News and Updates (Oct 13)
B&N is no longer in the tech business: Media/Tech News and Updates (Sept 29)