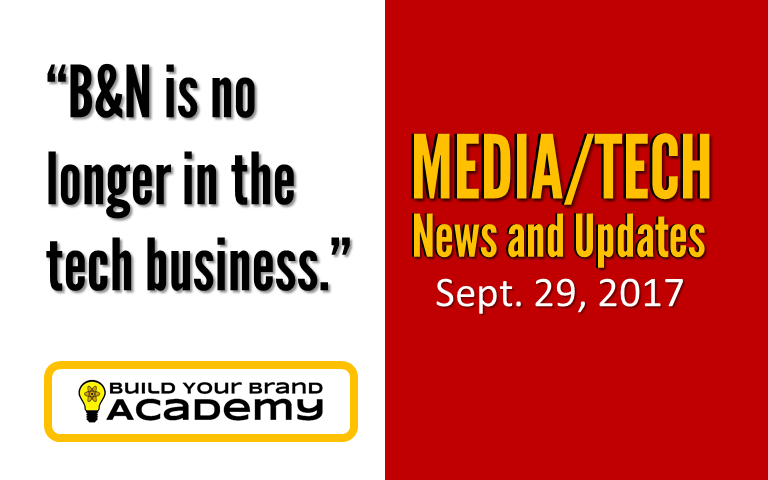 Where storytelling and tools collide
A roundup of news and updates from media at the intersection of content and technology. Includes the latest in publishing, streaming, podcasting, and more...
IS NOOK STILL A THING?
This week, TechCrunch posted a eulogy for Barnes & Noble's Nook--and then the article disappeared. Whether the report was premature, B&N shareholders were told that things are bad for the Nook.
Publishers Weekly: Riggio Backs Parneros at B&N Annual Meeting
Riggio also assured shareholders that B&N is no longer in the tech business. While the Nook e-reader and e-books will remain a part of the company's offerings to customers, bricks and mortar stores will be its focus. Riggio explained that when e-book sales began exploding several years ago, B&N felt it had no choice but to enter the digital market. In retrospect, Riggio said, B&N didn't have the culture or financing to compete with the likes of Amazon and Google. Instead, according to Riggio, B&N will focus on its physical stores and will partner with technology companies to keep a presence in the digital space. "There is no business model in technology" for B&N, Riggio acknowledged.
Retail Dive: Barnes & Noble has a Nook problem
"As usual, the disastrous Nook division led the declines, with sales plunging by 28.1% — the biggest drop in over a year," Saunders noted in an email to Retail Dive. "While Nook is now profitable at EBITDA level, its contribution of $617,000 is negligible. In any case, the segment remains loss making at an operational level and this quarter dragged down the bottom line by $2.7 million."
---
TWITTER ALLOWS MORE CHARACTERS, ALSO TROLLING
This week, some Twitter users have been allowed to try out the new 280-character limit, which is double what the rest of us are allowed. Online reaction has been somewhat mixed, ranging from "Why do we need this?" to "Shouldn't Twitter fix more important things first?"
The Verge: Twitter just doubled the character limit for tweets to 280
Super-sized tweets are likely to change the nature of the network as more people gain access to them, and in unpredictable ways. Will those multi-message "tweetstorms" shrink into a smaller number of tweets, or will the expanded real estate encourage people to write even more? What new kinds of jokes and memes are possible at 280 characters that were not possible at 140? Will 280 characters allow for just enough nuance and diplomacy that we may be able to avert global thermonuclear war?
We'll soon find out. Most Twitter applications should already be able to show longer tweets, thanks to changes that the company introduced to its API last year. You'll know you have expanded tweets if the character counter at the bottom right-hand corner of the composer looks like a circle. It will count down from 280 until you run out of room.
Engadget: Twitter proved its priorities are screwed up with just 280 characters
If anything, people are probably ditching the platform because of how toxic it has become....Last year, the company did shut down the account of one of its most offensive users, Breitbart's former Tech Editor Milo Yiannopoulos. But that only came after he repeatedly violated user guidelines...The company has a bunch of others to sort through, like how to respond more efficiently to revenge porn cases. Or how to make make it easier for users to report harassment and act quickly to block abusive accounts, not just dare you to check out any potential abusive mentions from randoms.
---
HOW FACEBOOK KEEPS IT'S MASSIVE LIVE AUDIENCE(S) FROM CRASHING THE SYSTEM
Across its different platforms, Facebook has billions of users--most of whom are posting an enormous amount of content all the time. When you consider the challenges of hosting live video and live chat--multiplied by the billions of people posting and interacting with multiple livestreams at any given moment--it's remarkable that Facebook can handle the load.
Fast Company: How Facebook's Engineers Try Not To Get Swamped By Massive Live Events
The key, said Shie Erlich, Facebook's manager for real-time infrastructure, is to make sure that when any user does something on live features on the social network–or any of the services it owns–the people that matter to them see it immediately. "Let's say that your friend Joe wants to go live and show the new tricks his dog learned," Erlich says. "He opens up the app, [clicks] go live, and at that point, he starts streaming video out. We're trying to create an audience for this person. Otherwise he's lonely." While most of what people broadcast with Facebook Live is entertaining or at least appropriate, the company has had to grapple with controversy over the tool. People have used it to stream shocking events, such as a number of suicides and killings, and in some cases, Facebook has been accused of moving slowly to remove the videos. Still, most live videos are harmless and Facebook wants to ensure that users can see them in real time, as well as any relevant engagement, as they're happening.