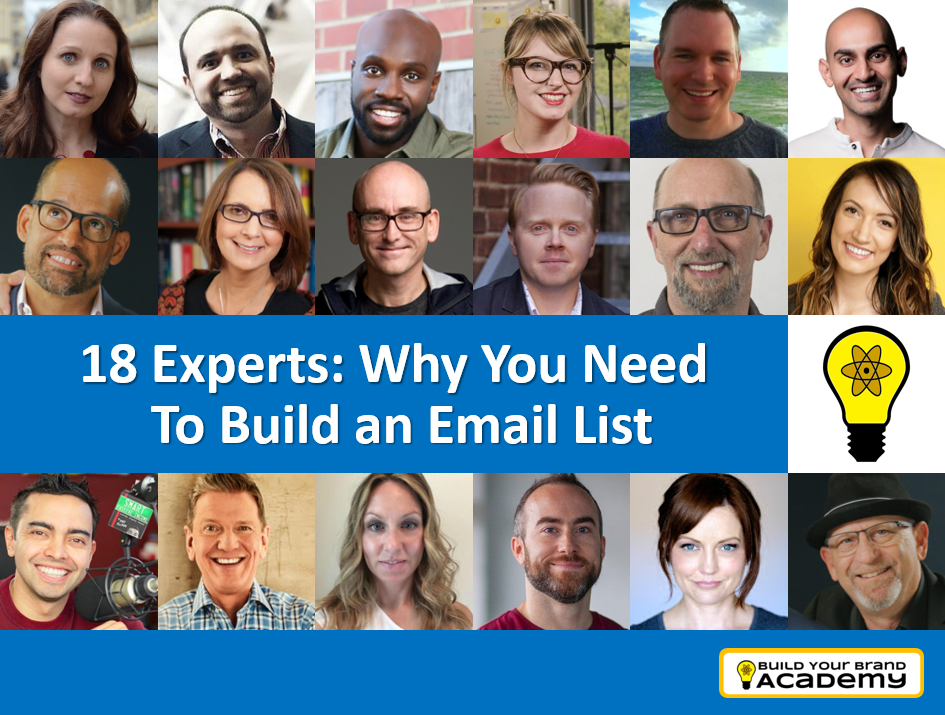 Despite all the tools available for promoting your books and building your author presence online, it would be a mistake to discount the value of a healthy email list. Building a list of email subscribers allows you to engage with your readers, drive new book sales, and insure your author platform against inevitable changes in search engines and social networks. Don't believe me? Here are 18 influencers--including authors, bloggers, podcasters, and other online teachers--who explain why you need an email list...
RELATED: Email Marketing for Authors: 7 Reasons Every Author Needs to Build An Email List
18 Experts on Why You Should Start Building Your Subscriber List Today

Joanna Penn (The Creative Penn)
Your email list is the only way to consistently let fans know about your work. If you own this list, you can always earn money from your creative work.
https://www.thecreativepenn.com/2015/01/15/fiction...
---

Joe Pulizzi (Content Marketing Institute)
An email list is critical because you can't build your content on rented land. So many brands and companies build their audiences on Facebook and Google+, which is fine, but we don't own those names – Facebook and Google do.
https://www.campaignmonitor.com/blog/email-marketi...
---

Juntae DeLane (Digital Branding Institute)
While there are many valid and profitable reasons for adding social media marketing to your toolbox, the current research shows that it would be a costly mistake to toss email marketing out just yet. Social media has not surpassed email marketing. Email is still converting better for a variety of reasons...
http://digitalbrandinginstitute.com/email-marketin...
---

Mariah Coz (Femtrepreneur)
Yes, your email list is important and you too need to get one up and running if you don't already. The value of having access to your readers in a more personal way is immense. The people that sign up for your emails are your most wonderful, loyal, engaged readers that want more from you. They are likely to support you when you come out with a new book or product line, and you should of course treat them like the beautiful people that they are (give them special treats and exclusives).

https://www.femtrepreneur.co/blog/2014/7/7/how-to-...
---

Shawn Manaher (Book Marketing Tools)
You need to build your email list. If you don't do it, you're going to be left behind.
http://bookmarketingtools.com/blog/relying-on-othe...
---

Neil Patel (Entrepreneur, investor & influencer)
Collect emails so you can get people back to your site on a continual basis. For example, if you have a blog, every time you publish a new post, you can notify your list, which will help increase repeat traffic.
https://www.campaignmonitor.com/blog/email-marketi...
---

Melyssa Griffin (Entrepreneur)
Do you ever intend to sell products or services on your website? Then you need an email list.
http://www.melyssagriffin.com/why-you-should-start...
---

Jeff Goins (Goins, Writer)
One of the best things I ever did as a blogger was build an email list. If you're not getting people on your email list, you're missing out big time.
---

Darren Rowse (Problogger)
Nothing has come close to killing off email, and you don't have to worry about algorithms, news feeds, and the fleeting nature of social media. It's an incredibly successful traffic-driver, exceptional for selling (either affiliate sales or your own products), it's good for building community, and it helps build your brand.
https://problogger.com/top-tips-to-boost-your-email-list-subscribers-today/
---

Frances Caballo (Social Media Just for Writers)
As effective as social media is for engaging with your readers—not to mention discoverability—there's nothing that quite compares to a robust email marketing list.
http://www.socialmediajustforwriters.com/authors-g...
---

Joel Friedlander (The Book Designer)
With your email list full of people anxious to hear your stories or learn from your expertise, you have the beginning of a sustainable business.
---

Seth Price and Barry Feldman (The Road to Recognition)
Email is your ace, the money medium. It's private, permission-based and pervasive. Commit to developing an email list and using it to nurture relationships with your subscribers.
http://www.theroadtorecognition.com/
---

Kimberly Grabas (Your Writer Platform)
Building a targeted and invested email list of subscribers is hands down one of THE most important things you can do to ensure the long-term growth of your writing career. If I could only take one thing with me on a deserted (platform building) island, it would be my email list.
http://www.yourwriterplatform.com/email-list-build...
---

Michael Hyatt (Platform University)
An email list is more important than the number of unique visitors your website gets; the number of fans you have on Twitter, Facebook, or other social media networks; and the number of comments your blog posts get. If you aren't converting these people into email subscribers, then you can't monetize your platform.
https://michaelhyatt.com/formula.html
---

Tim Grahl (Book Launch)
Other than writing well and consistently, building your email list should be your Number One goal as an author. It's the foundation of your author platform.
https://booklaunch.com/email-marketing-101-for-aut...
---

Ana Hoffman (Traffic Generation Cafe)
When people ask me what my biggest traffic source is, it's my email list. Every time I want to tell something like there's a huge post that I published at Traffic Generation Cafe, I tell them about it and that gets me more traffic than all social media together, and mention on other blogs. My email list is definitely my biggest traffic source at Traffic Generation Cafe.
---

Pat Flynn (Smart Passive Income)
One of the biggest mistakes I made when I first started my online business journey was not starting an email list. Back then, I didn't know how important it was. Now I realize just how impactful an email list can be in moving your business forward…
https://www.smartpassiveincome.com/tutorials/how-t...