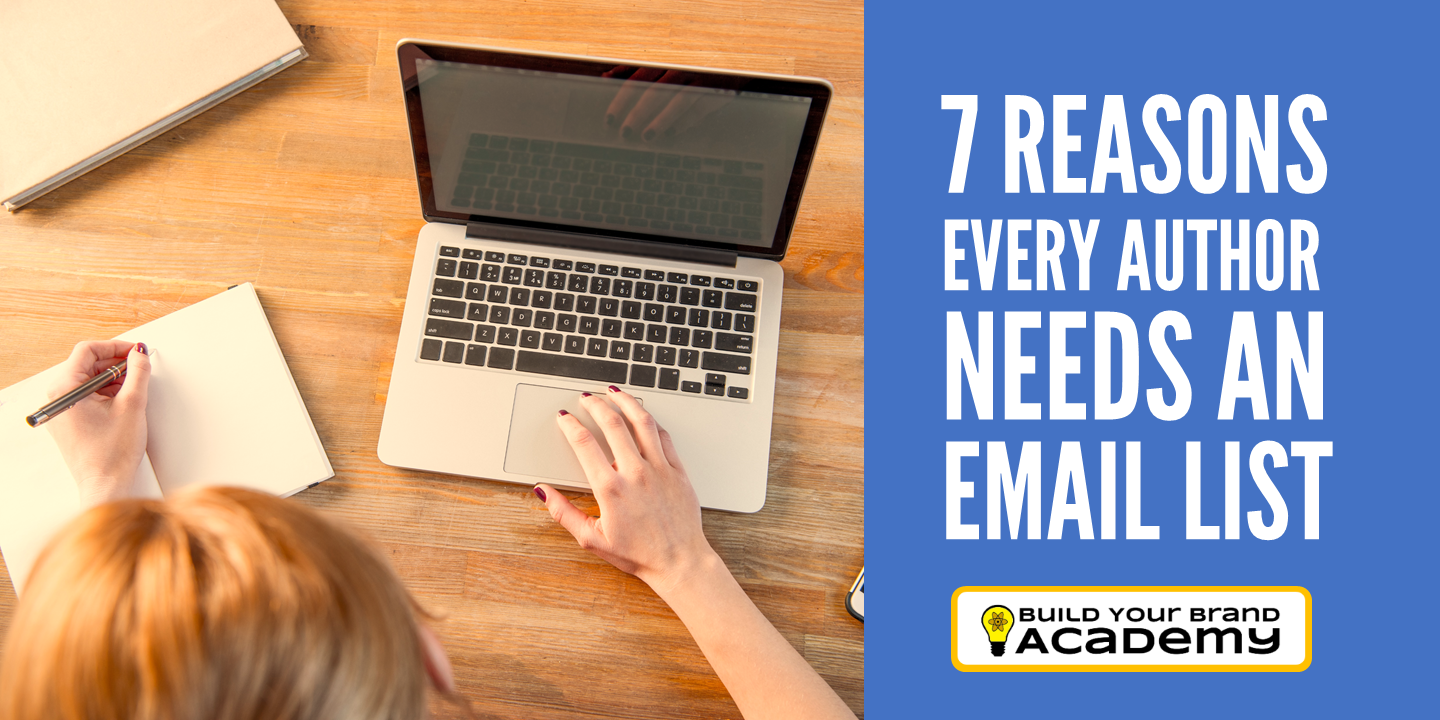 With all the shiny, new platforms popping up in the news, it's easy to take email for granted. But experts agree that building an email list is important for your author business. An email database gives you opportunities to engage more personally with your readers, drive new book sales, and insure your author platform against inevitable changes in search engines and social networks. Don't have a list yet? Below are seven reasons you should start today...
RELATED: 18 Experts: Why Every Author Needs an Email List
---
---
WHY EVERY AUTHOR SHOULD BUILD AN EMAIL DATABASE
01 EMAIL IS EVERYWHERE
Nearly everybody in the world has one (or more) email addresses—91 percent of all U.S. consumers use email every day. Thanks to smartphones, most people carry their emails around with them everywhere. Mobile email accounts for up to 75% of email opens. In fact, there are 4.3 billion email accounts that send 196 billion emails every single day!
02 EMAIL IS PRIVATE
When someone opens your email, their attention is way more likely to be focused on what you have to say. Most other types of communication compete with all the noise and clutter of everything else—including other posts, other screens, other browser tabs, and even other activities. Email is one of the few ways to communicate where you can talk to that one individual reader without the crowd reading over your shoulder.
03 EMAIL IS PERSONAL
When you start a conversation in someone's inbox, you have a unique opportunity to build a relationship with your readers. And with continual advances in technology, email is now more personal—and personalized—than ever. While you can still send "broadcast" or even "automated" emails, the best kind of email experiences allow the user to make more choices about what he or she wants to see next. Modern automation makes it easier for you to tailor the message to that one reader's needs—and do it at scale. This is the promise of The One To One Future by Don Peppers and Martha Rogers. While those stuck in the old "mass media" mindset struggle to make sense of the modern world, your email list allows you to make one-to-one connections.
04 YOUR SUBSCRIBERS HAVE GIVEN YOU PERMISSION
If you gathered your emails in the appropriate (and legal) way, that means every person on that list gave you permission to keep in touch. In his seminal book Permission Marketing, Seth Godin outlined how mass marketing is becoming obsolete. Instead of the outmoded "interruption" marketing—where marketers literally jump in to stop the fun while they blurt out some unrelated (and often irrelevant) sales message—the "permission marketing" approach starts a conversation that pulls in folks. As such, these emails can engage with your readers in a more meaningful way than social media or your website.
05 EMAIL DELIVERS BETTER RESULTS
Research shows us that pound for pound, your emails get a higher percentage of eyeballs on your message, and a higher number of responses. Better than any Facebook post, any Tweet, or any Instagram Story. Most people are not going to make daily checks of your blog or your accounts on Facebook and Instagram. But they will check their email. According to McKinsey and Company, email is 40 times more effective than Facebook and Twitter.
06 YOU OWN THE LIST
On social networks, you're playing ball in someone else's yard. No matter how many followers you gather, that's not your audience—you're just borrowing them for as long as that platform gives you permission to talk to them. At any time, they can change the rules—and there's nothing you can do about it. On the other hand, when you collect email addresses you have way more control. If they're subscribed to your list, you can contact them directly. And you don't need anyone's permission.
07 YOU CAN MEASURE THE RESULTS
One of email's best features is that it allows you to track results over time. You can use the data to tinker with and improve your delivery rate, your open rates, and even your click-through rates. Instead of trying out things and hoping for the best, your email service provider offers you the kind of information so you can test, optimize, and improve your email marketing.
RELATED: 5 Reasons You Should NOT Switch From MailChimp To ConvertKit
YOU NEED AN EMAIL PROVIDER. (IT'S THE LAW.)
When we talk about your "email list," we aren't talking about your Gmail address book. While you can send individual emails through your personal email account, you need an email service provider like Mailchimp or ConvertKit any time you plan to send a mass email or promotional message. Several countries have passed laws about this. In the U.S., the CAN-SPAM legislation passed by Federal Trade Commission defines strict rules for sending commercial emails. If you're caught breaking these rules, you can be fined up to $16,000 per email!
Need help setting up the right kind of email list?

I recently switched to ConvertKit and it's AMAZING. Check out ConvertKit's best advice in The Complete Guide to Email Marketing. Click HERE to get the book sent straight to your inbox – free!
PS - Here's the thing: The ConverKit links are affiliate links. What does that mean? If you click through my affiliate links and decide that you love ConvertKit as much as I do, I'll get credit if you sign up. It doesn't change the price for you, so everybody wins. :)